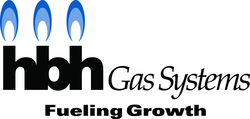 Austin, TX (PRWEB) June 30, 2009
Things are starting to heat up as the summer season quickly approaches - but homeowners who want cool utility bills this summer are making sure their water heaters are working to the fullest potential. HBH Gas Systems, a world leader in Central Gas Distribution System design and implementation, and Rinnai, Japan's leading manufacturer of home gas appliances, have joined together in creating the ultimate in economical and environmentally friendly water heating systems.
Central Gas Distribution Systems provide underground, metered gas utilities to developments that cannot access the natural gas infrastructure, typically due to cost or logistical constraints associated with extending the natural gas main. These systems allow developers to shift from inefficient, carbon-heavy electricity to more sustainable development fueled by gas. One home fueling its space and water heating requirements with gas from a Central Gas Distribution System in lieu of electricity effectively offsets the annual carbon emissions from one average vehicle.
A distinct benefit of implementing a Central Gas Distribution System is the builder's ability to install the economical gas appliances that more and more homebuyers are demanding - enter the super-efficient Rinnai tankless water heater. Rinnai tankless water heaters do not heat a large tank of water. Instead, the Rinnai heats water only when needed, for as long as you want it. Homeowners using Rinnai tankless water heaters will save tremendously compared to electric, or even gas-fired, water heaters with tanks. Coupled with the minimal footprint and continuous hot water, it's easy to see why developers and builders have experienced a surge in requests for these energy-saving tankless water heaters.
Take the Hill Country Harbor community as a prime example of pairing a Central Gas Distribution System with Rinnai tankless water heaters. This community is located too far from the natural gas grid to make natural gas an option. So, facing the prospect of a high-end community without gas fuel that so many discerning homeowners demand, the developers turned to HBH Gas Systems to design and implement a Central Gas Distribution System. Now, as the beautiful community begins to take shape on the shores of pristine Possum Kingdom Lake near Fort Worth, Texas, homebuyers are pleased to find the cabins, homes and condominiums equipped with Rinnai tankless water heaters.
Due to the world-renowned gas system design and implementation expertise of HBH Gas Systems, this community will install hundreds of Rinnai tankless water heaters in just the first phase of 200 units out of 800 planned. That means a world-class community with world-class living conditions, all thanks to the foresight of the developers, the outstanding products from Rinnai, and the clean, economical fuel provided by the Central Gas Distribution System from HBH Gas Systems.
About HBH Gas Systems:
HBH Gas Systems specializes in the marketing, design, and implementation of fully-engineered Central Gas Distribution Systems, sometimes called simply community gas distribution systems or just central gas systems. HBH also specializes in natural gas distribution networks both in the U.S. and abroad. To obtain more information about this project or about HBH Gas Systems visit http://www.hbhsystems.com or contact Harris Baker at 512-306-0073 or info@hbhsystems.com.
About Rinnai:
Rinnai American Corporation, a subsidiary of in Nagoya, Japan, was established in 1974 and is headquartered in Peachtree City, GA. Rinnai Corporation manufactures gas appliances, including tankless water heaters, a wide range of kitchen appliances and heating and air conditioning units. Today, Rinnai is the single largest gas appliance manufacturer in Japan and is the technology leader in its industry. Annual corporate revenues, including those of its subsidiaries, are in excess of $2.5 billion. With a global perspective to create 21st century products for the home and office, Rinnai Corporation commits itself to safety and the pursuit of comfortable lifestyles. For more information about the Rinnai Corporation and Rinnai products, visit http://www.rinnai.us.
###