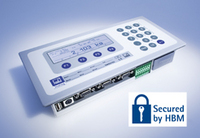 Marlboro, MA (Vocus) March 11, 2010
The new DWS2103 digital scale display from HBM can be used to easily set up legal-for-trade scales which meet the new European measuring instruments direc-tive (MID – Measuring Instruments Directive). The scale display works with analog and digital load cells. HBM offers FIT-type digital load cells and AED-type analog load cells and digital transducer electronics for this purpose. This makes both automatic and non-automatic weighing machines a possibility. The new scale display is particularly interesting for open systems that work with a PLC and standard field buses, as these can be expanded very easily and cost-effectively into a legal-for-trade solution.
The European measuring instruments directive has been included in national German law since 2007 with an amendment to the weights and measures act. The requirements in the area of weighing technology include in particular protection against manipulation in data transmission, for example from a load cell to the display unit. In the DWS2103 scale dis-play, data transmission is implemented with the encryption process Advanced Encryption Standard (AES), which works with a 256 bit key. This modern encryption algorithm also meets the requirements of the WELMEC guideline 7.2. Manipulation during data trans-mission is thereby prevented so that the legal-for-trade capability of a scale is always ensured.
The digital signal transmission also offers the user numerous additional advantages. The data can for example also be transmitted wirelessly via a WLAN for instance. At the same time, electrical isolation is also provided. In addition, the DWS2103 scale display does not have to be installed in the direct vicinity of the actual scale. This digital technology also enables entry into modern Asset Management as, for example, information about the digital load cells can be automatically passed on to a superordinate control system. In this way, condition-oriented early maintenance contributes to greater availability of the system.
Picture: Legal-for-trade weighing systems can be set up very easily with the DWS2103 digital scale display.
###