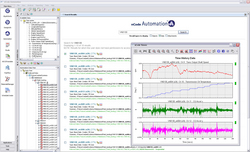 Data searching can be a costly task for engineering departments. Automation PE catalogues data and enables powerful searching to maximize data re-use.
Southfield, MI (Vocus) February 11, 2010
HBM today announced the release of nCode Automation Personal Edition, the new desktop environment for engineering test data storage, analysis and reporting. nCode Automation Personal Edition (PE) takes the power of nCode Automation with its search and data warehousing capabilities and applies it to local data on a laptop or shared drive. nCode Automation PE increases the productivity of the individual user – making it possible to quickly find, organize, and analyze data that is directly accessible from their computer.
nCode Automation PE is fully integrated with -- and is an ideal addition to -- nCode GlyphWorks®, the powerful data processing software. Data that is analyzed using nCode GlyphWorks can be managed with nCode Automation PE. Automation Personal Edition does not use a remote file store for this data – meaning the data is not actually moved anywhere. It instead "indexes" the data that is available locally, thereby making it easy to install, and enables the user to rapidly gain more value from engineering data. There are no separate databases to install or set up. Automation PE is a perfect solution for an organization looking to gain more value out of data that is currently stored on shared drives and in structured file directories.
With its leading-edge architecture, nCode Automation allows engineers to quickly find needed data, automate analyses and learn from huge amounts of data. It provides several methods to automatically organize data. Custom methods can even be configured by the user. Data which is not recognized as a supported type, for example, word processing documents, video, images, etc., can be added as attachments in Automation PE and are fully searchable.
"Data searching or retrieval can be a costly task for engineering departments in many industries. Gigabytes of data have been collected from physical tests but finding the right data is often a real challenge. Automation PE catalogues all that data and enables powerful searching to maximize data re-use. But it is the automated analysis to extract additional information and interpret the data which really increases the return on investment in physical testing. Automation PE makes that power available in a cost-effective way with minimal set-up," commented Jon Aldred, product manager for nCode products.
nCode Automation is also fully scalable and available in two further editions. Workgroup Edition is for a single department or company site; Enterprise Edition is used where multi-site or global data access is required. The Enterprise Edition integrates with Oracle databases and IBM's WebSphere Application Server for managing data on a corporate level. These systems provide secure web-based access from anywhere, increasing collaboration and the transfer of engineering knowledge. As an example, Lockheed Martin uses nCode Automation Enterprise Edition on the F-35 Lightning II Joint Strike Fighter program to manage and share engineering data from full-scale test articles. In addition to testing at the Engineering Structural Test Facility in Fort Worth, other variants of the F-35 are being tested by BAE Systems Structural and Dynamic Test Facility, at Brough in the UK, and at the Vought Aircraft facility at Grand Prairie, Texas. Automation provides a secure system that allows these multiple project partners to both upload new data and access the data they are allowed to see, while also conforming to the required ITAR regulations.
For more information, go to http://www.hbm.com/ncode
###