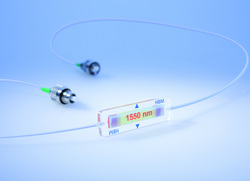 Marlboro, MA (Vocus) March 10, 2010
HBM has now developed its K-OP type optical strain gages (SGs) even further so that they offer several decisive advantages compared to electrical SGs. They are for example ideally suited to material tests of new fiber composites. Tests with up to 10 million load cycles with an alternating strain of ±5.000 µm/m are now possible.
The K-OP type optical SGs are based on so-called fiber Bragg gratings. As the strain is measured purely optically, an electric signal is not necessary. This makes utilization in explosive atmospheres, electro-magnetic interferences or even high voltage applications possible without difficulties. In addition, several optical SGs can be attached to a fiber, enabling implementation of parallel meas-urements. Glass fiber lengths of several hundred meters are possible.
The user receives a data sheet with the optical strain gages, which amongst other things includes the important gage factor of each individual SG, already tested by HBM according to the new VDI/VDE2660.
Measurement data acquisition with optical SGs and the evaluation is very simple. HBM offers the user all necessary components from one source. These range from optical SGs with the appropriate accessories via interrogators to the data acquisition software catman®AP, which includes a special EasyOptics module for optical SGs.
Further information at http://www.hbm.com.
# # #