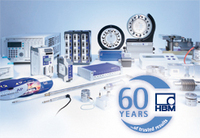 Marlboro, MA (Vocus) March 9, 2010
HBM, the worldwide leader in test and measurement is celebrating its 60th anniversary this year. For six decades, test and measurement solutions from HBM have been used in millions of applications to increase safety and efficiency - in cars, airplanes, buildings or in product development and production. The company has, again and again, set standards in test and measurement. All signs are directed to innovation and growth in the anniversary year as well.
Like many other success stories, this one too started out small: The German engineer Karl Hottinger founded his company for the development and production of high-grade test and measurement equipment with only ten employees in 1950. Today, HBM (Hottinger Baldwin Messtechnik) is a global player in this industry - providing products and services for the complete measuring chain, ranging from transducer through electronic data acquisition systems and complex evaluation and analysis software, complemented by professional services.
Reliable test equipment: Providing increased safety
Today as sixty years ago, HBM products ensure highly precise and reliable test results - and thus provide increased safety and efficiency. Be it airplanes, cars, buildings or wind turbines: Test results acquired with HBM technology are used in tens of thousands of applications to gather detailed information about the load capacity and functionality of products. Furthermore, using HBM weighing technology ensures that weight is always determined correctly. In addition, HBM's industrial process control solutions allow for efficient manufacturing processes.
The reason for this unique success is evident: HBM has always focused on innovation and quality. Then, as today, customers rely on the excellent workmanship and superior technology of HBM products.
Groundbreaking patents are proof of HBM's consistent innovative capacity. Already in the 1950s, HBM was pioneering in strain gage technology, which was revolutionary at the time - and still is essential to many products like transducers and load cells. Measuring amplifiers like the nearly legendary DMP39 high-precision measuring instrument and the MGCplus universal measuring system, which is used in tens of thousands of applications, have set standards for the whole industry. In 1986, HBM was the first company in Germany to be certified according to the ISO9001 international quality management standard.
Focus on the future
At its 60th anniversary, HBM continues to focus on innovation and progress. Over the past years, HBM has been able to substantially enhance its portfolio of products and solutions both through in-house development and the acquisition of companies.
The HBM nCode trademark, for example, provides highly professional software solutions for virtual testing. Genesis HighSpeed supplies users with data acquisition systems featuring extremely high sampling rates. While HBM SoMat is the ideal solution to extremely harsh conditions of use. HBM's new, universal and ultra-compact QuantumX data acquisition system already has opened up new horizons for next generation measurement.
Test and measurement is the key to shorter innovation cycles
60 years of HBM means experience, know-how, consistency - and, in addition, 60 years of innovation. HBM's leading edge test and measurement technology will become increasingly important in the future: In particular, the ever shorter innovation cycles of globalized industry demand reliable test and measurement solutions. Thanks to its comprehensive know-how and international network of sales representatives and experts, HBM is well prepared to successfully meet these challenges.
# # #