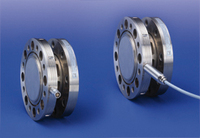 Darmstadt/Marlborough (Vocus) September 25, 2009
HBM's torque reference transducer TB2 is designed as a reference and transfer transducer for use in on site calibrations - for example, in the calibration of torque transducers without having to remove them from the test bench. The TB2 is available with the nominal (rated) torques of 500 Nm, 1 kNm, 2 kNm, 3 kNm, 5 kNm and 10 kNm, and is characterized by a very low measurement uncertainty.
The TB2 is particularly suitable for non-rotational torque measurements. It is available with a hermetically-sealed design and protection class IP67, as per EN 60529 for use in challenging ambient conditions.
In addition to extremely high accuracy, the TB2 reference transducer is characterized by its low sensitivity to parasitic influences such as bending moments and lateral forces. Sensitivity to ambient influences, such as temperature deviations is also very low, thanks to the enclosed geometry of the measuring body. The TB2 can meet all general climatic challenges in an operating temperature range of -50 °C to +80 °C.
Originally developed for industrial applications, the TB2 can also be used as a transfer transducer for torque calibration under laboratory conditions because of its high precision. The TB2 transducer typically reaches its best class of 0.05 as per DIN 51309 or EA-10/14, for measurement range initial values from 2 percent; a range from 40 to 100 percent is normally required for this standard.
The strain gages (SG) used in the measurement system enable the use of all amplifiers that support SG full bridges. This includes, for example, HBM's ML38B precision amplifier module in the MGCplus system.
Further information at http://www.hbm.com/torque.
###