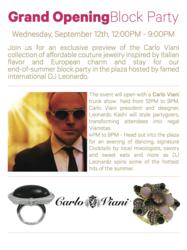 EUGENE, Ore. (PRWEB) September 11, 2012
Who: The H Boutique (http://www.hboutique.com), the one-of-a-kind concierge-style jewelry store located in Eugene's new luxury boutique hotel the Inn at the 5th, will celebrate the transition to fall in style with a grand opening block party and exclusive Carlo Viani jewelry preview.
What: The day-long soiree will kick-off with an exclusive preview of the Carlo Viani collection of affordable couture jewelry, inspired by Italian flavor and European charm. Acclaimed jewelry aficionado, and president of Carlo Viani, Leonardo Kashi will transform partygoers into fashion-forward "Vianistas."
From 4:00 p.m. on, Kashi becomes international sensation, DJ Leonardo and will spin summer hits on the 5th Street Public Market promenade (outside the H Boutique) for an end-of-summer block party to celebrate the changing of the seasons in style. Local mixologists from the Vintage will serve up signature cocktails accompanied by passed savory and sweet bites from Marché.
When: Wednesday, September 12th, 2012 from noon – 9:00 p.m.
Noon – 9 p.m.: Carlo Viani exclusive jewelry preview.
1 – 3 p.m.: The Ducks Insider with Jerry Allen ("The Voice of the Ducks") and Jill Savage will broadcast live from H Boutique!
1 – 2 p.m.: The U of O Duck will make a special appearance at the H Boutique.
4 – 9 p.m.: Block party featuring DJ Leonardo mixing the summer's hottest hits, local mixologists from the Vintage will serve up signature cocktails, and Marche will serve beer, wine and savory and sweet bites on the 5th Street Public Market promenade, just outside of the H Boutique.
Where: H Boutique is located at 248 East 5th Avenue, Suite 15, Eugene, Oregon 97401 and can be accessed from the lobby at the Inn at the 5th or an additional entrance from 5th Street Market.
Special Offer: Guests of the H Boutique grand opening event may receive an exclusive offer from Gervais spa (also located at the Inn at the 5th) compliments of the H Boutique and Gervais. Receive a $25 Gervais gift card when you spend $250 or more at H Boutique on Wednesday, Sept. 12. Guests who spend more than $500 will receive a $50 Gervais gift card.
For more information: http://www.hboutique.com/events
About the H Boutique
The third generation Ritchie cousins created the H Boutique, a new concept jewelry store where fashion and fine jewelry come together, to provide an experience that is unlike any other in Eugene. H Boutique Jewelry Stylists will introduce some of the hottest brands in fashion, fine jewelry, bridal and watches and inspire guests to explore the world of jewelry while discovering their own unique sense of style. The H provides a concierge-style shopping experience, offering everything from complimentary espresso and champagne to personal styling and spa-like treatments for guests' jewelry. For more information about the H Boutique, please visit http://www.hboutique.com, "like" us on Facebook, or follow @HBoutiqueOR on Twitter, Pinterest and Instagram.
###