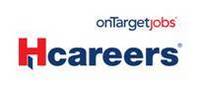 We are pleased Hcareers was again recognized as a leading resource by our user base.
Englewood, CO (Vocus) February 11, 2009 -
Hcareers , the world's leading Web site for hospitality careers and an onTargetjobs Inc. (OTJ) company, was one of only 30 outlets WEDDLE's named as this year's top job sites.
"Hcareers offers the premier, online community for job candidates looking for careers in the hospitality, restaurant and other service industries," said Wes Crews, Executive Vice President and General Manager of onTargetjobs. "We are pleased Hcareers was again recognized as a leading resource by our user base."
HEALTHeCAREERS Network , an OTJ vertical within the healthcare industry, was another award recipient of the 2009 WEDDLE's User's Choice Award. This recognition weighs each winner's level of service and value to Web visitors as well as the strength of online, employment resources.
Hcareers provides value through dynamic, industry content, networking opportunities and other meaningful services in an economy where now more than ever, companies and candidates are in need of resource-saving tools for efficient recruitment and career advancement.
The hospitality site expands these efforts through more than 750,000 unique, monthly visitors. Hcareers is also the only job board recommended by leading hospitality organizations such as the American Hotel & Lodging Association and National Restaurant Association.
Hcareers provides targeted reach to premier employers and qualified job seekers. All onTargetjobs sites offer a highly qualified candidate application versus the larger job boards' less focused tactic of showcasing non-specific offerings connected to general job listings.
About Hcareers (http://www.hcareers.com)]
Hcareers is the leading job board for hotel, restaurant, foodservice, travel and other hospitality industries. Hcareers is known for providing industry-specific online recruitment solutions and has rapidly become the world's number-one choice for both job seekers and employers across hospitality industries. In addition to thousands of searchable jobs, the Web site provides candidates with other career resources such employment tips, industry articles and salary guides.
Hcareers was founded more than a decade ago and is an onTargetjobs Inc. company.
Press Contact
Heather Sharp
Senior Manager, Marketing and Communications
onTargetjobs Inc.
720.833.7363
# # #