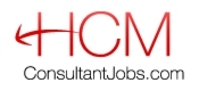 With the launch of the site, there's now a focused, time- and cost-efficient way of matching experienced candidates with the needs of employers
Washington, DC (PRWEB) July 16, 2008
Recognizing the expanding area of human capital management (HCM), http://www.HCMConsultantJobs.com, the industry's first niche Internet job board, was launched today. The site focuses on employers and job seekers engaged in the HCM consulting field, including functional and technical HCM, organizational and instructional design, and business process reengineering consultants.
With a concentration on the HCM job market---an area that has been widely overlooked on job boards until now---the user-friendly site is a specialized community for both HCM job seekers and employers.
Job-seeking consultants are able to post their profiles and resumes, search jobs, read industry news, and view upcoming industry events. A unique feature also allows candidates to build comprehensive profiles and choose a status of either active, passive or networking, giving them the opportunity to build relationships and network with top industry professionals.
In an industry where finding top talent can often be challenging, the board enables HCM employers to easily post jobs and identify the best candidates for their open positions. Unlike any other job board today, the profile base system also allows recruiters to view profiles and conduct detailed searches.
Employers and candidates in the human capital field are very specialized, and HCMConsultantJobs.com realizes the job challenges both groups face. "With the launch of the site, there's now a focused, time- and cost-efficient way of matching experienced candidates with the needs of employers," says Jenny Robertson, site founder and talent management specialist. "HCMConsultantJobs.com gives applicants and hiring managers confidence in knowing our focus is on creating the only one-stop shop for HCM professionals." In the future, employers will be able to access recruiting, hiring and salary trends, as well as develop informational advertising segments to inform candidates about the benefits of working for their organizations.
About HCMConsultantJobs.com: HCMConsultantJobs.com is the leading niche job board for the human capital management consultant industry. With a user-friendly design, valuable industry news, and unique features like custom candidate statuses and viewable profiles, the site is the premier job community for both the industry's top talent and companies. To learn more about the job board's leading services, visit http://www.HCMConsultantJobs.com.
# # #