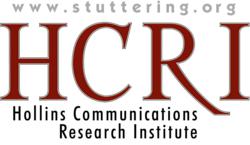 The app features a sophisticated voice monitoring system that measures and scores speech behavior taught during HCRI's 12-day stuttering therapy program.
Roanoke, VA (PRWEB) October 17, 2011
Hollins Communications Research Institute (HCRI – http://www.stuttering.org), a leading center for stuttering research and therapy innovation, has extended its fluency-training iPhone/ iPod Touch app software to run on Apple iPads, adding to the nonprofit Institute's wide range of technologically advanced stuttering therapy tools for clients.
The app features a voice monitoring system that measures and scores speech behavior taught during HCRI's 12-day stuttering treatment program. Provided free of charge to HCRI therapy participants, the app is first used on an iPod Touch by clients during the second week of stuttering treatment. The app is designed to help program participants transfer newly acquired fluency skills from the clinical setting to real-world situations. It has been successfully used in HCRI treatment for the past two years.
Under the guidance of specially trained HCRI clinicians, program participants use the app to practice their new speaking abilities in everyday situations. As individuals speak, the screen displays real-time fluency measurements for each utterance. This immediate feedback helps clients improve the accuracy and speed with which fluency is achieved. Additionally, the device records and transmits speech patterns back to HCRI, enabling clinicians to further customize therapy for each program participant.
Once HCRI's intensive therapy program is completed, clients can use the free app on a personal iPad, iPhone, or iPod Touch to help practice and reinforce newly learned speech-muscle behaviors when they return home.
"The app has been extremely effective in the context of therapy to help program participants stay on track as they retrain tongue, jaw, mouth, and throat muscles to achieve fluency," said HCRI President Ronald L. Webster, Ph.D. "Now when program participants go home, they can use the app on their iPads, iPhones, and iPod Touches to help maintain fluency skills for the long term," Webster added.
In addition to the app, HCRI's extensive post-therapy support includes phone and email follow-up with HCRI clinicians; FluencyNet, a computer-based fluency practice system, refresher courses; fluency practice groups and conference calls; HCRI-produced CDs and program manuals; and client events.
"At HCRI, we serve as a partner in fluency for life. That's why we provide our clients with such an extensive package of post-therapy support and fluency training tools," Webster explained
While there is no cure for stuttering, HCRI's behavioral stuttering therapy helps people who stutter learn how to replace faulty speech muscle movements that cause stuttering with new muscle behaviors that generate fluency. The scientifically based therapy was developed by HCRI research scientists more than 30 years ago and has been continually refined over the years to add greater precision to the therapy process and make fluency learning easier and longer-lasting. Research shows that 93 percent of HCRI clients achieve fluent speech by the end of their 12-day treatment program. Follow-up studies show 70 to 75 percent of program participant maintain fluency for the long-term.
Roanoke, Virginia-based HCRI offers 17 stuttering therapy programs annually. Nearly 6,000 people, aged 9 to 73, from 48 countries have come to HCRI for stuttering therapy. Clients include broadcaster John Stossel of Fox News; Annie Glenn, wife of Senator and Astronaut John Glenn; as well as athletes, teachers, engineers, students, doctors, military personnel, business professionals, police officers, actors, and others from all walks of life. For more information, visit http://www.stuttering.org or contact HCRI at 540-265-5650 or admin@stuttering.org.
###