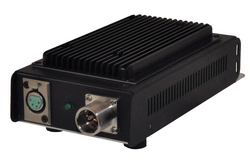 Our new Mini-Mussel Shells with the latest generation of HD/POV modules give broadcasters more flexibility than ever before for transporting high-quality HD signals over long distances via fiber
Worcester, MA (Vocus) September 10, 2010
At IBC2010, Telecast Fiber Systems will launch a new family of HD/POV fiber optic video/data transceiver modules specifically designed for robotic camera applications. In addition to providing all of the proven functionality of the company's original HD/POV solutions, the new HD/POV links now provide the option of Ethernet control and are housed in small, ruggedized Mini-Mussel Shell field enclosures at a new, lower price.
As the next generation of Telecast Fiber Systems' popular and well-established Viper™ family of fiber optic production systems, the new Mini-Mussel Shells provide a portable and compact universal enclosure for the company's new line of "T-Block" Viper function modules. Mini-Mussel Shells can be mixed and matched to provide highly customized, portable solutions for electronic field production. Each Mini-Mussel has all of the features customers have come to expect from Viper, including integral optical power metering, informative system LED indicators, and an assortment of powering options.
Telecast Fiber Systems' HD/POV modules are an important component in remotely operated, robotic POV camera systems — enabling unique points of view and camera angles at sports venues and other locations in which human-operated cameras would not be feasible. In one compelling example, the HD/POV modules were used to deliver high-quality HD video, audio, and data signals for NASCAR's Digger "Gopher Cam" specialized remote-camera systems, which provided a "gopher's-eye view" of race car action at the track level. Now, the newest HD/POV links will enable easy and high-performance data exchange via Ethernet fiber connections.
"Our new Mini-Mussel Shells with the latest generation of HD/POV modules give broadcasters more flexibility than ever before for transporting high-quality HD signals over long distances via fiber," said Steve DeFrancesco, vice president and general manager of Telecast Fiber Systems. "They offer another reason why our Viper product line is the top pick for broadcasters who require maximum flexibility and performance to meet their most challenging field production requirements."
About Telecast Fiber Systems, Inc.
Telecast Fiber Systems, Inc. is the company known for its portable and fixed fiber optic systems for television broadcast production. Telecast's video, audio, and communications systems are used worldwide by TV networks, teleproduction companies, sports venues, and various private, educational, and government and military organizations to extend range, simplify cabling, and reduce labor costs and setup time. Telecast systems have helped usher in the age of HD television production, and the company now is active in the development of 3D HD TV production. Telecast Fiber Systems is a subsidiary of Belden (NYSE: BDC), a leader in comprehensive signal transmission solutions for fiber, cable, wireless signal, and industrial networking applications.
More information about Telecast Fiber Systems can be found at http://www.telecast-fiber.com.
###