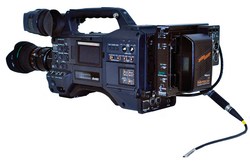 Worcester, MA (Vocus) October 13, 2010
Third-Generation CopperHead™ Camera-Mounted Transceivers
The CopperHead™ 3000 Series is the newest addition to Telecast Fiber Systems' patented CopperHead family of camera-mountable fiber optic transceivers, providing a single fiber optic link between any professional camera or camcorder and the broadcaster's truck, control room, or "video village" position. The CopperHead 3000 Series can handle all vital camera signals and can be configured for specific applications such as ENG or multicamera use.
At HD World 2010, Telecast will show the CopperHead™ 3050 — specifically designed to meet the unique requirements of electronic news gathering (ENG) and satellite news gathering (SNG). Also the CopperHead™ 3200, which offers an affordable yet powerful multicasting solution for a range of HD broadcasting applications. Both systems deliver uncompressed HD video and simultaneously transport bidirectional digital (SDI or HD/SDI) and analog (NTSC or PAL) video, as well as all two-way camera control, audio, video, data, sync, tally/call, prompter, and intercom signals between the camera and the base station.
The CopperHead™ 3400, the first CopperHead designed for dual-camera 3-D rigs, provides transport of two HD camera signals to the control room or truck with full control of the cameras as well as the 3-D rig's motor system, all over a thin, lightweight fiber optic cable. The system is equally at home on cameras at live 3-D sporting events and scripted 3-D film and television productions.
HD POV Robotic Links — In New Mini-Mussel Field Enclosures
Telecast will have a new family of HD/POV links for robotic cameras on display that delivers the established functionality of the company's original HD/POV solutions, plus the option of Ethernet control, enclosed in small, ruggedized housings at a new, lower price.
The next generation of Telecast's popular and well-established Viper™ family of fiber optic production systems, the new Mini-Mussel Shell provides a portable and compact universal enclosure for the company's new line of "T-Block" Viper function modules. Mini-Mussel Shells can be mixed and matched to provide highly customized, portable solutions for electronic field production. Each Mini-Mussel has all of the features customers have come to expect from Viper, including integral optical power metering, informative system LED indicators, and an assortment of powering options.
State-of-the-Art 3-D Production
As state-of-the-art 3-D techniques and equipment continue to transform cinematography and set the bar ever higher for motion picture production companies, Telecast will continue to evolve its solutions to keep pace with the latest 3-D technology developments. At HD World 2010, Telecast will demonstrate fiber optic technology that powers the state-of-the-art 3-D cameras used in many of today's most exciting motion pictures and live events. One such solution is the CopperHead™ 3400.
Company Overview
Telecast Fiber Systems, Inc. is the company known for its portable and fixed fiber optic systems for television broadcast production. Telecast's video, audio, and communications systems are used worldwide by TV networks, teleproduction companies, sports venues, and various private, educational, and government and military organizations to extend range, simplify cabling, and reduce labor costs and setup time. Telecast systems have helped usher in the age of HD television production, and the company now is active in the development of 3-D HD TV production. Telecast Fiber Systems is a subsidiary of Belden (NYSE: BDC), a leader in comprehensive signal transmission solutions for fiber, cable, wireless signal, and industrial networking applications.
More information about Telecast Fiber Systems can be found at http://www.telecast-fiber.com.
###