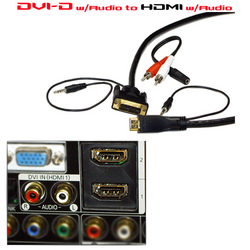 From a consumers standpoint like myself we wanted to come up with a way where we don't have to buy a cable for audio and then buy a cable for video or that the HDMI to HDMI don't seem to handshake with my hardware etc...our company decided we should find an easy way to solve the problem. Thus this is how we came about to find a way to extrude the audio cable inside the DVI to HDMI
Brea, CA (PRWEB) December 18, 2008
Advance Wire Group Corp. introduces a DVI to HDMI cable with Audio that consumers, pro-sumers, distributors and wholesalers have long been waited for. Since both transfer digital signals the DVI-D to HDMI cable are capable of supporting a resolution beyond a 1080p.
What is so special about the DVI-D to HDMI cable with Audio?
In terms of new technology nothing. But it's for those who has the imagination as to what it can do for them like:
Better cost not only to distributors/wholesalers also very cost effective for the consumers.
Less skus for merchants to handle and input.
Less inventories for merchants to stock making for a better cash flow.
Convenience, it offers a one cable solution for DVI to HDMI with Audio.
Neatness, without having the clutter of more cables dangling.
Useful for hooking up your laptop or desktop to your HDTV or any hardware that utilizes the DVI or HDMI ports.
Time saved not to have to trouble shoot and an alternative to the handshaking problems with HDMI to HDMI cables.
…well it gets rid of the headaches.
"From a consumers standpoint like myself we wanted to come up with a way where we don't have to buy a cable for audio and then buy a cable for video or that the HDMI to HDMI don't seem to handshake with my hardware etc...our company decided we should find an easy way to solve the problem. Thus this is how we came about to find a way to extrude the audio cable inside the DVI to HDMI," says Young Chan Director of Marketing and Branding at AWG Corp.
"Once again we try our best to better the product by making it more efficient for the market and the demands of consumers, installers and distributors to accommodate to their needs," says Vince Luu VP of Advanced Wire Group Corp. This DVI-D single link to HDMI cable supports all current and future HDMI and DVI-D ports where-ever there is one with an audio input or audio in with the ability to support a resolution of 1080p.
More and more HDTVs in the market has this feature in the back panels of the LCD, PLASMA and DLP sets made by major manufacturers in the industry like those of Sony, Panasonic, Samsung and others. DVI was introduced and the production of the standard started in 1999 with millions of hardware and peripherals utilizing the DVI connector and invention, but the downfall were that it had no audio. Millions of people are now stuck with the hardware in the consumers, prosumers and the professionals market and it would cost too much to discard, upgrade or replace a perfect functioning equipment. Gamers are in a category who also wants the High-Def resolution but with the pitfall of no audio. With this cable it will offer a solution to link newer hardware with older existing hardware. Game on.
Advanced Wire Group Corp. also offers a wide range of high quality products from Adapters, USB cables, SVGA cables, DVI cables, HDMI to DVI with Audio, Mini HDMI etc…as the company's products are all RoHS Compliant. For more information contact Advanced Wire Group Corp., 170 Gemini Ave., Ste. C-11 Brea, CA 92821, or call 714/525-8868 FAX: 714/525-8882. Or visit the Web site: http://www.awgcables.com
All trademarks, names and Logos belong to its respective owners. HDMI is a registered trademark of HDMI Licensing LLC.
###