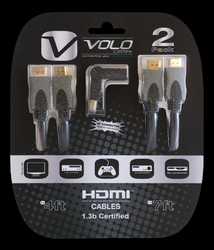 We pride ourselves on providing excellent service and going above and beyond the call of duty to make programs a big success for our retail partners
Bellevue, WA (PRWEB) April 21, 2009
TRU Company unveiled its new VOLO product line, which answers consumer demand for more affordable, high-quality home entertainment and gaming accessories. For green-minded shoppers, the company has partnered with AGI Media (a MeadWestvaco Resource) and its Natralock® product, which is taking a revolutionary approach to eco-friendly product packaging. The high-value HDMI cable line has been shipping since June 2008 and is currently available in several specialty Consumer Electronics stores. VOLO HDMI products are also available for direct-to-consumer purchase at Amazon.com: Volo HDMI Cables Amazon
Product Line
Home Theater - VOLO's HDMI cables are all 1.3b certified and provide one easy to use HDMI cable for all your Digital Audio and Video connections. The Home Theater line Volo Home Theater HDMI consists of 3 models (ProV100, 200, and 300). VOLO HDMI cables are made from the highest quality materials and craftsmanship without the high prices.
Gaming - VOLO's HDMI Gaming cables were designed specifically for the gaming console. The PRO V Gamer Series transfers all the hi-definition audio and video in your video game to your HDTV in lossless uncompressed digital formats. Users can connect gaming cables to their PS3 or Xbox 360 to maximize system performance. Volo Gaming HDMI
Support - Every VOLO product comes with 24/7 customer support (866-610-VOLO) as well as an easy-to-read "How To HDMI" connection guide for simple set-up.
"As HDMI adoption increases and the install base of HDTV's, gaming systems, components and Blu-ray players penetrate the market, the need for multiple HDMI cables will continue to increase," said TRU President, Mitch Norton. "VOLO fills a void in the retail market by offering greater value cables at a lower cost."
Sustainable, Eco-Friendly Packaging
VOLO is committed to protecting the planet and exceeding green retail packaging standards across its entire line of home entertainment and gaming accessories. The company recently discovered Natralock®, which is taking eco-friendly packaging to an entirely new level with:

enhanced security and durability for retail
50-60 percent less plastic on average than clamshell packaging
reduced shipping costs and added value to the supply chain
improved on-pack graphics and consumer experience for manufacturers
an easy to open package that gives consumers a clear view of the product
"The majority of VOLO products ship raw to our fulfillment center. This decreases container cubes up to 75 percent, which in turn, decreases emissions. The majority of packages are then assembled in the U.S. (keeping valuable jobs here) while supplying retailers and consumers with a superior product they can feel good about purchasing. It's a triple win," said Maribeth Poalson, VP of Sales for AGI Media. "We're proud of our work with TRU. The team is equally committed to protecting our planet and wants to help drive change industry-wide."
Pricing & Availability
"VOLO products are high-quality and built to last, but come without the typically high price tag. We are committed to setting a new standard for maximizing value for our customers in a market this is usually known for high mark-ups," added Norton.
VOLO 3 in 1 Starter Pack - MSRP $39.99
7 ft. HDMI cable (1.3b Certified) w/ 90 degree wall-mount adapter
1 oz. bottle of PUROSOL organic screen cleaner
VOLO 2 Pack - MSRP $49.99
4 & 7 ft. HDMI cables (1.3b Certified) w/ 90 degree wall-mount adapter
VOLO ProV100, 200, and 300 - MSRP $19.99-44.99
Available lengths - 4,7, & 12 ft. (1.3b Certified) HDMI cables
VOLO ProVgamer 100 & 200 - MSRP $29.99 & 39.99
Available length - 10ft. (1.3b Certified) HDMI cables
VOLO products have been shipping since June 2008. They are now available in specialty Consumer Electronics stores including Fry's and MicroCenter. VOLO products are also available for consumer purchase at Volo HDMI Cables Amazon
Quality Service & Distribution for Retailer Partners
TRU Company offers a full range of distribution services in partnership with retail. Its VOLO line is no exception. The company has built solid direct supplier partnerships with over 50 manufacturers across DVD, videogames, audio, and electronic accessories. TRU also works with each client to create tailor-made mixed media home entertainment offerings to improve margins at competitive pricing.
"We pride ourselves on providing excellent service and going above and beyond the call of duty to make programs a big success for our retail partners," said Norton.
Press Contact:
Tisha Doré
760.505.9676
Tisha @ tishadore.com
###