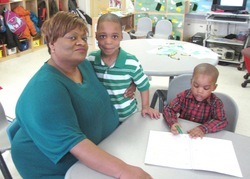 I make it my business to go beyond what is required for the purpose of helping kids learn, think and do for themselves.
Edwardsville, IL (Vocus) May 11, 2010
Sybilfelita Cox's love for children is the driving force for her unapologetically pushing past the limits. Winning a national teacher award was quite beside the point for the long-time Southern Illinois University Edwardsville Head Start/Early Head Start instructor.
"I make it my business to go beyond what is required for the purpose of helping kids learn, think and do for themselves," said Cox, winner of the National Head Start Association Teacher of the Year Award 2010. The award was presented to Cox on May 6 at the Annual Head Start Award Ceremony and Dinner in Dallas, Texas.
The national recognition came on the heels of Cox receiving the 2009/2010 Illinois Head Start Teacher of the Year in March. "I love working with children who have special needs, because I believe every child is teachable. I have seen those same kids learn and excel by the end of the school year," said Cox, a Head Start teacher for 32 years. Once when there was a child in the teacher's class who had no hands, Cox worked diligently with the child's mother in helping him learn how to use prosthetics.
For the preschooler, Cox feels learning should encompass more than Play-Doh and building blocks. In fact, she places such a high value on history that she prides herself on exposing the children to black history all year long. More specifically, she injects a black history fact into her weekly lessons. Her classroom features posters of notable figures such as The Rev. Dr. Martin Luther King Jr. and President Barack Obama.
"I want the children to learn about people who look like them and hear how they overcame great odds," she said. "I believe black history gives the children a great sense of pride."
Lutricia West, the coordinator at the St. Joseph Head Start Center in East St. Louis, describes Cox as a reflection of the SIUE Head Start/Early Head Start mission and its commitment and loyalty to students. Among other duties, Cox plans center-wide educational activities, opens the building daily and performs monthly fire drills. According to West, Cox has been nothing but an asset to the St. Joseph Head Start. Cox says her work as a preschool instructor is one of the most important things she will ever do. "A child's first teacher away from home can make a critical and lasting impression," the Head Start teacher said. "I want to arm these children with the best possible start to education."
The SIUE Head Start/Early Head Start Program provides children of low-income families with comprehensive services to meet their educational, social-emotional and health needs. Hazel Mallory is the program director.
A photo is available on the SIUE News website: http://www.siue.edu/news/current.shtml
With a focus on empowering people and strengthening communities, the SIUE East St. Louis Center is dedicated to improving the lives of families and individuals of all ages in the Metro East Area. Head Start/Early Head Start, a charter school and a performing arts center are among 12 programs that offer the community renewed hope and an opportunity to reach their educational, career and life goals.
###