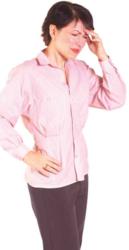 Drs. Flory and Maffit now have developed a program that evaluates many aspects of lifestyle and health history then identifies and supports healing the cause of an individual's headache and migraine pain, not solely treating symptoms again and again.
St. Louis, MO (PRWEB) October 22, 2011
The doctors of Delta Spinal Care & Holistic Wellness (DSC) in Clayton, MO, by monitoring progressive research around the world in recent years, have uncovered several procedures for helping people locally who suffer from migraines or other headaches in a unique way. The multiple causes of migraines and headache pain have been long known to have a significant relationship with inflammation, head/neck injuries, hormonal imbalances, brainstem function and an intimate relationship with tension of blood vessels. Because one exact cause of migraines and headaches has not been determined, Drs. Matthew Flory and Chris Maffit now have developed a program that evaluates many aspects of lifestyle and health history then identifies and supports the healing of the cause(s) of an individual's headache and migraine pain, not solely treating symptoms. Free screening will be provided to the community as a kick-off to the program in late October (details can be found here on DSC's website).
For example, research points towards trauma as one origin of migraines and headache pain. Evidence supports that trauma, particularly injury in the head, neck or upper torso region, increases the likelihood to develop chronic pain. Symptoms can take months or years (in some cases ten or more years) to develop following trauma. When asked many patients recall specific incidences of trauma (auto accidents, falls, concussions, whiplashes) that may have caused their injuries while some do not.
In only the last 60 years, specially trained doctors across the US have been saving many people who were headed for spinal surgery by developing and using NUCCA protocols (very specialized procedures for reducing neck pain and tension) which are now offered at Delta Spinal Care & Holistic Wellness. Until recently, many suffering people have been excluded from access to this procedure based on who they personally know and if they are lucky enough to get a referral.
Unfortunately, an overwhelming majority of health care professionals have not been exposed to the NUCCA procedure, in part due to the fact that the protocols involve no pharmaceutical or surgical intervention and therefore some doctors do not learn about or refer patients for the procedure which is outside of mainstream medical treatment. The procedure is performed by less than 1% of all chiropractic physicians who have elected to receive this special training outside of standard joint manipulation.
This may now change as in recent years, researchers at the University of Chicago published that the NUCCA procedure also dramatically improves high blood pressure in hypertensive individuals. In 2007, George Bakris, MD, Professor of Medicine and Director of the Hypertensive Disease Unit at the University Of Chicago Pritzker School Of Medicine collaborated with Dr. Marshall Dickholtz, Sr., DC of the Chiropractic Health Center, in Chicago who performed all the procedures for the research as per NUCCA spinal correction protocols.
The NUCCA procedure calls for gentle and controlled correction of the C-1 vertebra (Atlas) which surrounds a portion of the brainstem at the base of the skull. "This procedure has the effect of not one, but two blood-pressure medications given in combination [on average 18 points]," Dr. Bakris informed WebMD in an interview. In addition to this he also said, "And it seems to be adverse-event free. We saw no side effects and no problems."
Dr. Bakris notes that previous researchers have suggested that injury to the atlas vertebra can affect blood flow in the arteries located at the base of the skull. Dickholtz is of the opinion that an injured Atlas irritates the brainstem nerves and triggers the release of improper nerve signals that make the arteries operate abnormally. Whether the procedure actually fixes or just alleviates such injuries is unknown and likely varies from individual to individual, Bakris says.
Another vital facet of DSC's community health program is reducing chronic inflammation. Food Intolerances and Food Sensitivity have become a hot health topic across the country in the past few years. An article in the August 19, 2009 issue of LA Times quoted UCLA professor of medicine and director of the university's Center for Human Nutrition, Dr. David Heber as saying, "Chronic inflammation is an emerging field. It's a new concept for medicine."
According to the LA Times article, "Activated immune cells and hormones turn on the body itself, damaging tissues. The process continues indefinitely, occurring at low enough levels that a person doesn't feel pain or realize anything is wrong. Years later, proponents say, the damage contributes to illnesses such as heart disease, Autism, Asthma, Arthritis, Crohn's Disease, Irritable Bowel Syndrome, chronic inflammatory conditions [some migraines] and neurological disorders like Alzheimer's disease." More information can be found on the DSC website.
###