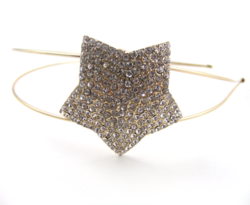 Manhattan, NY (PRWEB) October 12, 2012
New York City's leading provider of quality female headbands and hair accessories, Sproos, is hosting a fall giveaway from October 13th to October 24th.  Customers will have the opportunity to win free products of their own choosing from the company.
"I really appreciate all the support from the loyal customers I've head during the beginning times of Sproos.  I want to return the favor by giving something back," said owner Melissa Matos.  
Matos designed the contest to be simple and easily accessible for everyone interested.  All customers have to do is send a picture of their everyday hairstyle and makeup look to our facebook wall.  Two winners will be randomly chosen.  First place chooses 2 headbands under the price of $30.  Second place is allowed to choose 1 hair accessory of $25 or less.   
Although it has only been in business since 2011, Sproos has already developed a strong reputation for quality at an affordable price.  Melissa Matos took a trip to Tokyo in 2009, and found a variety of feather headbands at a reasonable price.  However, when she returned home to New York City, she was unable to locate what she wanted at a good price level.  Figuring other women found themselves facing the same quandary, she decided to open Sproos in order to meet the market demand.  
Since then, the company has met nothing but success.  Some of its more popular flower headbands include the Fresh Flower Stretch Headband, the Single White Rose Headband, and the L. Erickson Metal Blossom Headband, among many others.  Women interested in high-quality headbands at an affordable price will appreciate the selection offered by Sproos.  Individuals interested in entering should make a post on Sproos Facebook wall.     
 
About Sproos
 
Sproos was founded in 2011, two years after owner Melissa Matos took a trip to Tokyo in 2009. Sproos, sassy and chic female hair accessories, were easy to find at a reasonable price. However, upon returning to New York City, Matos found female hair accessories were either cheaply made or outrageously expensive.  After beginning operations in May 2011, the company has now expanded to offer over 72 different headbands and clips.  
 
Melissa Matos
Sproos
866-666-7833 (9 a.m. – 5 p.m. Eastern)
Sproos
PO Box 215 New York, NY 10163