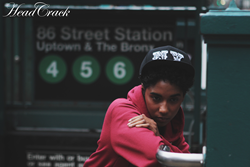 "The depth of the Head Crack brand is far beyond the street hype, the bigger we become, the bigger difference we plan to make."
Brooklyn, NY (PRWEB) April 01, 2015
Streetwear brand ​Head Crack​ ​has been a quiet storm in streetwear fashion, making it into 75 retail locations worldwide their first year and could be seen worn by several celebrity tastemakers like; ​A Tribe Called Quest on "Yeezus Tour", Jahlil Beats on "Legend Era 3" Album Cover, Chrisette Michele on "R&B Divas", "Hot Nigga" Viral Video by Bobby Shmurda and "India's #1 Hiphop Artist" Yo Yo Honey Singh.
Head Crack ​releases their ​2015 Spring x Summer Lookbook ​featuring ​Nas's illmatic brother "Jungle", Project Runway Model "Shaya Ali", rising R&B artist "Ro James" and Bravo TV personality "Chef Roble".​To see the collection please visit ​http://www.HeadCrack.NYC
About Head Crack: ​​​Head Crack is the new standard in street headwear, recognized for its quality, intricate detail, and thought ­provoking designs.
Founded on the streets of New York where if you can make it here, you can make it anywhere.
In a class of its own, each handmade Head Crack cut & sew reflects the winning lifestyle worn by athletes, entertainers and street heads alike. Head Crack debuted its first prototype in 2012 and designer & company founder Gliffics believes this is a life ­long mission. Being born against the odds into a system that sets you up for failure, with traps around every corner, inspires our motto: "Life's a risk, roll the dice."
It doesn't mean gambling your health, your money, or your image. Simply said, in life, there's no guarantees, and nothing worth having comes easy. Sometimes we face risk in order to get where we're going, so we take chances. When we roll the dice, the outcome doesn't just represent our will to win, it reflects our knowledge and our preparation to the following chapters of our lives... and with head crack, you're always a winner.
Head Crack ​is extending its dedication to philanthropic endeavors by donating $1 of proceeds from each snapback sale to The ​VH1 Save the Music Foundation;​ a non ­profit organization that focuses on restoring instrumental music education. ​Head Crack's partnership with the foundation includes a ​select number of hats and will run through September 2015.
About The Vh1 Save The Music Foundation: The VH1 Save The Music Foundation is a non profit committed to ensuring that music instruction is a core component to a complete education. Since 1997, the foundation has partnered with more than 1900 public schools in 231 school districts to give children the tools and confidence to excel in academics and in life. #PassTheNote and get involved at http://www.vh1savethemusic.org/
Join the conversation on Facebook, Twitter and Instagram @vh1savethemusic.
"The depth of the Head Crack brand is far beyond the street hype, the bigger we become, the bigger difference we plan to make. I feel like music education is one of the most significant curriculums anyone can study. Personally having it as an outlet to express myself, I know that music played such an important role in my life. For that, I am honored to take part in creating artistic outlets for the future of music"
­ Gliffics, Head Crack Inc, CEO.
The partnership is in keeping with ​Head Crack'​s established dedication to paying it forward; a portion of ​every ​sale since its inception has gone towards not for profits with noble purposes, and empowering the youth is fundamental to the company's goals.
http://www.headcrack.nyc/blogs/the-winners-digest/18011325-head-crack-releases-2015-spring-x-summer-collection-restoring-fashion-and-the-future-of-music