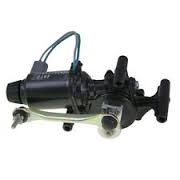 The use of headlight motors is now one way that automakers are automating the use of headlights for vehicles.
Miami, Florida (PRWEB) May 27, 2013
Auto parts replacements are typically found through local retailers or authorized resellers. The quality and age of each part can vary especially when buyers are purchasing from preowned sellers. The AutoProsUSA.com company constructed its website for parts buyers to use to locate parts that cannot be found using local sources. This company has now lowered the selling price of its headlamp motor for vehicles inventory. The motors in stock are able to fit onto import and domestically produced cars, trucks and SUVs. The available parts and pricing can be viewed at http://autoprosusa.com/used-head-lamp-motors-for-sale.
Luxury vehicles typically use technologies that are not found on some standard edition vehicles. The use of sensors and digital components has helped to simplify the driving experience for many owners of luxury automobiles. The use of headlight motors is now one way that automakers are automating the use of headlights for vehicles.
Because these parts are not in use by all automakers, shortages can be experienced by buyers relying on local retailers. The lights, motors and other accessories found in the Auto Pros company inventory are expected to provide the resources to help buyers make informed purchases online.
New agreements to distribute parts have been announced by this company this year. Multiple states are now part of the local distribution network of suppliers helping to provide faster shipments to customers. The parts that are ordered through the ordering systems are now being fulfilled by companies able to ship faster to local areas.
The news announcement at http://www.wbay.com/story/22253695/junk-yards-in-dallas-tx-now-shipping-orders-through-autoprosusacom is one example of the news distributed about the partnerships in place. Dealers in the states of Texas, Ohio, California and North Carolina are now helping to expand the company parts distribution.
The headlights, engines, transmissions and other popular parts that are now distributed are part of a company wide expansion. More parts from Ford, Chevrolet, Dodge and Honda have been added since January of this year. The quote system online is now helping the majority of parts buyers to locate immediate pricing and place orders faster.
This system has reduced the load placed on the company specialists monitoring the toll-free phone number for requests. The ability for more customers to receive prices independently has helped this company to streamline its efforts in other areas to expand the company volume of sales this year.
About AutoProsUSA.com
The AutoProsUSA.com company helps salvage companies, junkyards and other suppliers fill orders through its national database online. This company now lists thousands of parts that are available for buyers to purchase and fulfilled through trusted companies. The pricing that is generated through the company database is helping to provide better sale prices to buyers. The attachment of parts protection policies by the AutoProsUSA.com company is one method used to increase buyer assurance in its growing supply of used parts. The toll-free company number remains staffed by industry veterans who assist with parts lookup, matching and order processing for parts buyers in the U.S.