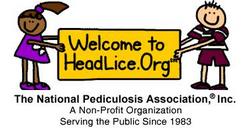 NPA's approach is not a new one. Monkeys, as part of nurturing and grooming have been searching and removing lice and nits from each other since the beginning of time.
Newton, MA (PRWEB) August 29, 2007
The National Pediculosis Association (http://www.headlice.org) is heading into September's National Head Lice Prevention Month with a brand new mantra to help parents remember the single most effective phrase for protecting their children from head lice - "screen, detect, remove, protect!" It's the 22nd year for the event, designed to raise awareness on preventing head lice and unnecessary exposures to pesticides. Early detection is the best edge there is to stop communicable diseases in general but also an important opportunity to stem lice outbreaks before they grow into big problems.
"If you wait, the challenges associated with head lice can seem huge," said Deborah Altschuler of the NPA. "But parents who perform regular checks will find that the problem is manageable and will save time and worry in the long run."
NPA says those who say nit removal is too difficult describe situations where head lice infestations have gone undetected and great numbers of nits have accumulated. Removing nits and lice early in an infestation is the competitive edge against having so many of them that it becomes a tedious task. Screening, detecting and removing lice and nits are healthy benefits chemicals can't provide.
Also known on many health care calendars as the All Out Comb Out, National Head Lice Prevention Month coincides with a return to school. As school kids gather in again, they can pass on more than just stories detailing what they did during the summer... And since lice know no social or economic bounds, each new year provides a chance for the NPA to remind all parents that the most basic of approaches for controlling head lice are still the most practical and realistic.
Screening and early detection for head lice can be compared to other basic and affordable health measures that never change. Tooth brushing still helps protect against cavities, hand washing still protects against infection, and an inexpensive mosquito net still saves lives against malaria-carrying mosquitoes. Routine screening with early intervention is still the best prevention of not just lice, but the panic that can come when everyone is caught by surprise.
"Combing for lice and nits isn't just about removing them. It's also about being able to screen and assure yourself that you are free of them," said Altschuler. "NPA's approach is not a new one. Monkeys, as part of nurturing and grooming have been searching and removing lice and nits from each other since the beginning of time. "
The NPA endorses the LiceMeister® comb - the gold standard medical device for screening, detection and removal of lice and nits. The new LiceMeister comb is even better with a bigger, sturdier, recyclable handle. NPA's educational Critter Card, detailing what to look for and how to see the difference between nits and normal hair debris, now comes in the new LiceMeister comb package. Proceeds from sales of the LiceMeister comb help keep the NPA independent and uncompromised in its mission to protect children from the misuse and abuse of pesticidal treatments for lice.
LiceMeister combs can be found locally through the NPA's website pharmacy search http://www.headlice.org/licemeister/search/lice-search.html or you can find more about where to get them by contacting:
In the US: School Health Corporation at 1-866-323-5465 or on-line at http://www.schoolhealth.com.
In Canada, check the pharmacy search or call 1-877-549-5423 or on-line at http://www.cancoastholdings.com/licemeister.htm.
In the UK you can find the LiceMeister comb through http://www.thehairforce.co.uk/liceassassins.html
In Korea, please e-mail: minkh@headlice.co.kr
For more help and educational resources visit http://www.headlice.org. Here parents, educators and public health workers will find free downloads for distribution in the community, images of actual lice and nits, answers to frequently asked questions, and fun lessons for kids too! http://www.headlice.org/kids/index.htm
Contact:
Jane Cotter
npa @headlice.org
tel. 617-905-0176
fax (401)823-4557
###