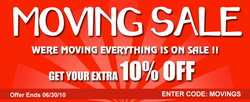 City of Industry, CA (Vocus) June 16, 2010
Leading online supplier of high performance headlights and other car parts, CarPart4U.com, is giving car owners more reason to go online when purchasing headlights, engine parts and exterior styling parts. The car part super store is giving customers an extra 10% off all its items for the entire month of June. Simply use the special code MOVINGS.
CarPart4U.com's mission is to offer customers high-quality headlights and other car parts at affordable prices. In addition to this month's 10% off sales promo, CarPart4U is offering its customers a low price guarantee. Because this company buys directly from manufacturers and suppliers, it is able to offer competitive prices on all its items. In fact, the company also offers 30 days of price protection from the date of purchase as well as price match for all its products. Additionally, it ships all purchases free of charge as long as it is within the Continental US. Customers can also rely on CarPart4U.com's easy return policy so replacing orders is never a hassle.
CarPart4U.com offers a wide variety of car parts. This online super store carries projector headlights, projector headlamps, HID Xenon projector headlights and replacement projector headlights. Its line of projector headlights are sourced from original equipment manufacturers so car owners and enthusiasts know that these are high quality products. These projector headlights are also available for a large variety of car makes and models, which includes Dodge, Chevrolet, Audi, Acura, Volkswagen, Honda, Toyota, BMW, Mercedes Benz and more. Choose from a variety of colors—from classic chrome housing and clear lenses to sharp looking black and very distinctive smoked lenses. Aside from headlights, CarPart4U.com also sales engine parts such as exhaust systems, piping, mufflers and fuel pressure regulators. It also offers an extensive array of exterior styling parts such as car grills, side view mirrors and hood trim covers to name a few.
This June is the perfect time to upgrade your car parts. Log onto CarPart4U.com and take advantage of the 10% discount by using the code MOVINGS. For more information on headlights and other car parts, visit the website's tech articles section.
About CarPart4U
CarPart4U is an online supplier of aftermarket auto parts such as high performance headlights and other car parts. Press release produced by Cybertegic.com – an Internet marketing services agency that specializes in search engine optimized press release marketing (SEO Marketing).
###