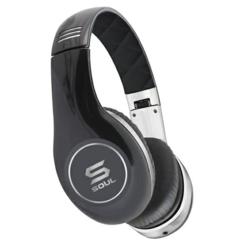 Headphones.com wants to help students go back on campus in style and with great sounding headphones
South Hackensack, NJ (PRWEB) August 25, 2011
The new school year is almost here and Headphones.com wants to help students go back on campus in style and with great sounding headphones. Check out the great suggestions below and visit the Headphones.com Back to School Top 10 for more great back to school styles.
Nixon Trooper - This headphone has it all; style, function and quality make this headphone a winner for everyone heading back to school. The rubberized silicone construction is durable enough to take daily abuse on the playground, without sacrificing the sound. Featuring Apple product controls, these Nixon Trooper headphones are sure to please.
Soul by Ludacris SL150 - Brand New Soul by Ludacris headphones, feature the perfect combination of incredible styling and high definition sound. The SL150's emphasize a deep powerful bass ideal for Hip Hop/Rap and clear mids and highs for Rock, Pop, or whatever the favorite flavor of the week might be.
Yurbuds Ironman – The most secure fit sports earphone that never falls out, even under the most intense workout conditions. The custom fit design of the Ironman's perform like no other earphone, gripping ears with its ultra soft silicone. Workouts will never again have to be stopped to adjust earphones!
Able Planet XNC230B - Portability and superior noise cancellation are what it's all about with this stylish headphone by Able Planet. These cans fold up to a compact size for ultimate portability, though it's hard to think of a reason why anyone would want to take these off! With 5 colors available, the style options are limitless.
Klipsch Image S4i – The perfect companion to all Apple products, the Klipsch Image S4i boasts premium sound quality with the convenience of full music control. Thanks to its advanced 3-Button mic and remote system, listeners will never have to miss a call again.
Turtle Beach PX5 – Frag noobs with amazing Wireless Dolby 7.1 Surround Sound accuracy! With programmable audio controls and immersive 360 degrees of audio, every footstep the enemy takes can be heard. Transport XBOX and PS3 Gaming skills to mind-blowing new levels!
Beats by Dr. Dre Solo - Experience the sound quality of Beats in a smaller, lighter version. With the tri-fold design, the Solos slip in to an included compact carrying case for traveling. These headphones provide not only comfort but also powerful sound and Apple compatible controls.
Audio-Technica ATH-ANC23 - These ultra-compact, active noise cancelling earphones let the music be enjoyed by filtering out 90% of background noises. Perfect for traveling and commuting, the ATH-ANC23 also comes with a bag, AAA battery, and three different ear size tips for a perfect fit.
Creative WP-300 - Cut the cord!!! Experience the freedom of wireless Bluetooth headphones. The Creative WP-300 features a portable lightweight on ear design with instant access to playback and volume controls on the ear cup. Enjoy tunes without the hassle of tangled wires ever again!
LTB Audio Systems Q-HOME-FX - Talk about a headphone that does it all, the Q-Home FX has the best digital connectivity for home stereos, TVs, or gaming consoles. The only wireless headphone with a digital audio input these wireless headphones deliver True 5.1 Surround Sound, comfortable ear cups, and all the connectivity options that could be imagined (Toslink/Optical). Escape noisy roommates or neighbors and be immersed in amazing sound!
Headphones.com is part of the AlltecStores network. The AlltecStores network consists of several specialty, e-tail websites focusing on audio-visual and technology products. It's main website, AlltecStores.com is parent to several others e-commerce sites, including Headphones.com, ProjectorScreenStore.com, AllCartStore.com, PodiumAndLecternStore.com, AllWhiteboards.com, ProjectorBulbsandLamps.com, NationalAVSupply.com and more. Manufacturers interested in having their products on Headphones.com should contact pr(at)headphones(dot)com. For more information visit http://www.headphones.com
###