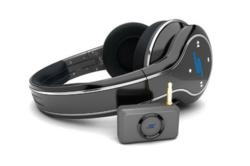 South Hackensack, NJ (PRWEB) November 23, 2011
Headphones.com is proud to announce the availability of 50 Cent's latest endeavor in the audio business. Despite a previous attempt to release headphones with Sleek Audio, 50 Cent persevered and pushed through to work with SMS Audio after acquiring Kono Audio earlier this year. It's out of character for 50 Cent to give up on any business venture and his persistence is about to pay off. Preorders are beginning to ship to retailers like Headphones.com where customers have shown a great interest in the stylish and feature-rich headphones.
The 50 Cent Headphones come in three models; wireless, wired, and in ear headphones. Each model is stylish and available in white, black, or the signature electric blue. The wireless headphones are capable of transmitting high quality sound from iPhones and other smartphones with controls on the exterior of the earcup.
With the popularity of other headphones lines such as the Beats by Dr. Dre and SOUL by Ludacris lines, 50 Cent is looking to capitalize on their success. Some other features of the SMS Audio headphones by 50 Cent include an ergonomic design for optimal fit and professional tuning.
The 'SYNC' by 50 headphones allow users to connect up to four pairs of headphones to a single audio source. Compatible up to 50 feet away, this is a great way to share music with others for a crystal clear music and listening experience. The 'STREET' model is also available which is a wired version of the 'SYNC'.
Headphones.com is part of the AlltecStores network. The AlltecStores network consists of several specialty e-tail websites focusing on audio-visual and technology products. It's main website, AlltecStores.com is parent to several others e-commerce sites, including Headphones.com, ProjectorScreenStore.com, AllCartStore.com, PodiumAndLecternStore.com, AllWhiteboards.com, ProjectorBulbsandLamps.com, NationalAVSupply.com and more. Manufacturers interested in having their products on Headphones.com should contact pr(at)headphones(dot)com. For more information visit http://www.headphones.com.
###