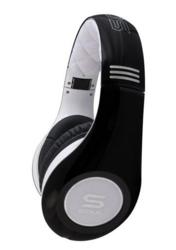 The SOUL by Ludacris products have been extremely popular with our customers, and the feedback from them has been tremendously positive
South Hackensack, NJ (PRWEB) February 14, 2012
Headphones.com, a leading online retailer of headphones has recently teamed up with the SOUL by Ludacris headphone company for a sweepstakes available on the popular social media website, Facebook.
By entering this Facebook promotion, contestants have the ability to win prizes including a $300 pair of SOUL by Ludacris Noise Cancelling Headphones (SL300WB), a $70 pair of SOUL by Ludacris earphones (SL49) and several SOUL by Ludacris T-shirts. Drawing held on 3/29/2012.
"We are excited to be working on another promotion with the SOUL by Ludacris team" said Brian Gluck, Headphones.com General Manager. "The SOUL by Ludacris products have been extremely popular with our customers, and the feedback from them has been tremendously positive. Our SL300 review, where we rated the headphones a 9 out of 10 was one of our most popular blog posts to date."
Headphones.com was one of the first online retailers to carry the SOUL by Ludacris line, and offers a free t-shirt with purchase of any SOUL headphone or earphone.
Details on the Facebook promotion can be found on Headphones.com's page here: http://www.facebook.com/HeadphonesCom?sk=app_336658759707144
About Headphones.com
Headphones.com is part of the AlltecStores network. The AlltecStores network consists of several specialty, e-tail websites focusing on audio-visual and technology products. It's main website, AlltecStores.com is parent to several others e-commerce sites, including Headphones.com, ProjectorScreenStore.com, AllCartStore.com, PodiumAndLecternStore.com, AllWhiteboards.com, ProjectorBulbsandLamps.com and more. Manufacturers interested in having their products on Headphones.com should contact pr(at)headphones(dot)com. For more information visit http://www.headphones.com
About SOUL by Ludacris®
Expression, Passion and Superior Sound are at the core of the SOUL by Ludacris ® experience. Here to prove that style and sound quality can coexist, the SOUL line offers an array of personal audio products that masterfully balance elements such as world-class noise cancellation technology with superior sound quality, allowing you experience the full range of your music. Pair that with an award winning design team and the expressive vision of world renowned artist Ludacris, and you get the first headphone that effectively merges style with professional acoustics.
###