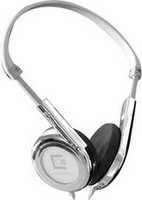 This site offers a large selection of Ipod and MP3 headphones. Headphones for the budget conscious can be found, as well as great headphones for the techie who prefers the latest and greatest of technology
Castle Rock, CO (PRWEB) October 8, 2007
One of the most prestigious online headphone companies, HeadphoneWarehouse.com, has now introduced to their collection, new Ipod andMP3 headphones. The Ipod-MP3 headphones they are now offering include both in ear headphones and over the ear headphones, with great sound, great portability, at affordable prices.
People who own portable stereo devices, such as MP3 players and Ipods, rely on great headphones to allow them to listen to their choice of music on the go. Although most of these portable devices come with their own headphones, many people are looking for something that offers higher quality and a better listening experience. Ear safety is also a top consideration, and the earbuds that come along with most portable players are not high quality. This causes many people to pump up the volume, which can be hazardous to their hearing. Of course many people just want a higher quality device so they can get the most out of their music as well ... which is where http://www.HeadphoneWarehouse.com comes in.
"This site offers a large selection of Ipod and MP3 headphones. Headphones for the budget conscious can be found, as well as great headphones for the techie who prefers the latest and greatest of technology". For those who do not care to deal with wires, there are even wireless headphones available as well. Site browsers will also find several noise canceling headphone choices if they prefer to block out the rest of the world while enjoying their music.
"HeadphoneWarehouse.com is definitely no newcomer to the headphone industry. Before they introduced their line of Ipod and MP3 headphones, they were already offering customers excellent headphone choices at their website". Just a few of the brand names offered include Shure Headphones, Koss Headphones, Beyerdynamic, Etymotic Research, Ultrasone, V-Moda, SkullCandy, Sony, Ultimate Ears, AKG Headphones and others. All of the headphones they offer are both highly rated and top of the line audio merchandise.
For more information about Ipod and MP3 headphones, contact Ron Rougeaux or visit http://www.HeadphoneWarehouse.com.
About HeadphoneWarehouse.com
"Headphone Warehouse sells only the best Ipod, MP3, wireless and Noise Cancelling headphones and earphones at competitive prices. They are dedicated to their customers to provide the best service and quality available online today".
Contact:
Ron Rougeaux
http://www.HeadphoneWarehouse.com
Email: info@HeadphoneWarehouse.com
###