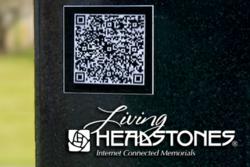 Anyone could leave a tribute, a virtual legacy, for generations to come.
Seattle, WA (PRWEB) May 27, 2013
This Memorial Day, families are using technology to remember their lost loved ones. Personalized websites allow families to stay connected and share personal photos, videos, and other memories from across the globe. For centuries, the world of memorialization hasn't changed. Families had to travel long distances and incur great expense, in order to stay connected with lost loved ones. This is no longer the case.
Those who have lost a loved one can add "QR Codes" or "quick-response codes" to their loved one's memorial. This code is linked to a personalized, "Living Headstones®" memorial website where families can upload stories, photos, videos, links, and other media used to tell their loved one's story. The code also contains GPS information about the cemetery location as well as the specific burial site.
While these codes are placed on the memorial itself, the personalized website is accessible from any desktop, smart phone, and tablet from anywhere in the world. Quiring Monuments, based out of Seattle, WA, is the leader in providing "Living Headstones®" memorials. The company estimates hundreds of these memorial websites have been created, so far.
The current leading alternative to "Living Headstones®" memorials is a Facebook memorial page. However, there are some concerns with creating a Facebook memorial page:

Facebook is ever-changing. As they continue to make updates to their pages, information could be lost, reformatted, or edited without consent.
Privacy settings could change over time keeping loved ones from being able to access the information contained on a memorial page.
Facebook doesn't allow a lot of flexibility when it comes to formatting photos and messages.
Living Headstones® memorial websites however, won't change over time and allow families to highlight important information on specific pages. Additionally, companies like Quiring Monuments, offer technical support and customer service to their customers, whenever needed.
Typically, these memorial sites are set up for lost loved ones, after their passing. However, those who want to tell their own story can do so with a Living Headstones® memorial. Anyone could create their own memorial page, before they pass, and upload their favorite images, videos, links, and more. In a sense, they could leave a tribute, a virtual legacy, for generations to come.