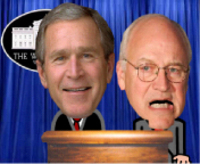 Headzup and GoLeft.tv are about encouraging social dialog on important events and issues; collaborating with the likes of Mike Papantonio and Bobby Kennedy Jr. is a tremendous boost to our innovative form of content
Bellevue, WA (PRWEB) July 23, 2007
Headzup Entertainment has teamed up with GoLeft.tv to deliver Headzup™ editorial cartoons to Internet and mobile audiences. "Headzup and GoLeft.tv are about encouraging social dialog on important events and issues; collaborating with the likes of Mike Papantonio and Bobby Kennedy Jr. is a tremendous boost to our innovative form of content," said John Shay, the founder of Headzup Entertainment. "As the world's first editorial cartoon produced specifically for video-enabled cell phones, Headzup is pioneering a new form of mobile entertainment called Catch and Release Comedy™."
"Catch and Release Comedy uses person-to-person file sharing to distribute popular content across cellular networks. Headzup does this by producing ultra-tiny video clips that can be downloaded and shared freely as picture messages between cell phones," said Shay. "Users CATCH a clip when someone sends them a headzup; they can then choose to RELEASE the clip back into the wild by forwarding it to others. Fans can even add a personal text message each time they forward a clip. Clips in the wild have an unlimited life span as they continuously traverse the globe passing from cell phone to cell phone."
Under the terms of the content distribution agreement, Headzup will be featured as a partner channel on the GoLeft.tv website. "Headzup represents an entirely new breed of editorial content," said Mike Papantonio of GoLeft.tv and Air America Radio Network. "We're very excited to be working with them to help shed fresh light on events and issues important to Americans and the world. It will be interesting to watch the impact of Headzup mobile editorial cartoons on the 2008 elections."
About Headzup Entertainment
Headzup™ publishes daily Catch and Release Comedy™ for video-enabled cell phones, iPhones, and iPods. Directed by comedian and cartoonist, Matthew Filipowicz, Headzup video clips are designed to be shared peer-to-peer across global cellular networks as MMS multimedia messages. Headzup clips are compatible with all video cell phones and can be sent worldwide across both 2G and 3G cellular networks. Headzup uses standard video and messaging capabilities that ship with every video-enabled cell phone so no additional software is required to download, enjoy, or share Headzup content. Headzup content can be viewed on personal computers, cell phones, iPods, iPhones, PDAs, and other mobile devices. Interested viewers can download free video clips to their computers and iPods by visiting http://www.headzup.tv. Mobile users can download free clips directly to their cell phones by visiting http://www.headzup.tv/mobile using any standard cell phone browser. Once downloaded, the clips can be forwarded to other video-enabled cell phones the same as a picture message.
"Hey dude, thanks for the headzup the other day! By the way, when exactly is the Ides of March?" Roman Emperor Julius Caesar -- March 15, 44 BC
CONTACT: Headzup Entertainment LLC
Bellevue, WA
John Shay
P: 425-746-4987
F: 253-295-6742
press@headzup.tv
About GoLeft.tv
GoLeft.tv is an innovative, web-based television and multimedia center featuring political, social and entertainment news and commentary from a Progressive angle, advocating a more enlightened, intelligent view of America and the world. Interested viewers can access GoLeft.tv from http://www.GoLeft.tv.
CONTACT: GoLeft.tv
Scott Millican
850-435-7008
888-277-4415
info@goleft.tv
###