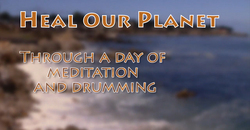 Do something for the Earth, and yourself...We can make a difference, together.
Gulfport, FL (PRWEB) July 21, 2010
Drumming is known to provide a healing experience for people around the planet, from primitive tribes in remote locations to high-tech communities in modern urban areas, from hippies who live moment-to-moment to corporate executives who rarely take time out from work to relax, from infants not yet walking to seniors who have not had warm hands in years until drumming.
Heal the Planet Drum Circle, organized and sponsored by Drum Circle Magazine will take place on July 25th, from sunrise to sunset. Everyone is encouraged to drum in groups large and small, or alone, for the sole purpose to release negative thoughts and feelings experienced during the oil disaster in the Gulf of Mexico, and to focus on healing themselves and the planet. Whether a person is with several hundred people drumming together in participating drum circles on Gulf of Mexico beaches and around the world, or a single person drumming in their backyard, they should be conscious of the purpose they are all drumming; to heal Mother Earth, and ourselves.
Drum Circle Magazine asks that everybody spread the word and invite as many people as they know. "As more people drum, the healing will expand." There will be opportunity to drum simultaneously as others drum, and there will times when maybe one person is drumming alone. "The idea is to create a group consciousness around the globe all focusing on love and healing through the day. Carry the intent with you all day. Every time you think of the event, send a healing thought to the Earth and visualize it merging with all of the other people drumming. Those who are drumming will amplify your thoughts and together we can make a difference."
For more information including times and locations of participating drum circles, visit Drum Circle Magazine.
###