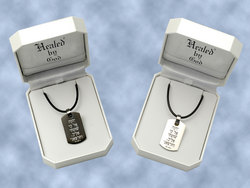 It's natural to attribute healing to a doctor or a miracle drug
St. Petersburg, FL (PRWEB) August 1, 2008
People who have been healed of a serious illness now have a unique way to share their news with others. Sticky Jewelry has introduced a line of pendants engraved in Hebrew with the scripture verse from Psalms 30:2-3, 'I cried to the Lord for help, and He healed me.' Each 'Healed by God' pendant comes in a gift box, and is packaged with a card that tells the story of King Hezekiah, from the Old Testament book of 2nd Chronicles.
Half way through his reign as King of Judah, Hezekiah became seriously ill and was told by the prophet Isaiah that he was going to die. Hezekiah prayed to God for healing, and God granted his wish. But, when Hezekiah failed to give God the credit, God sent Isaiah to tell him that his wealth would be lost, and his sons would be punished as a result of their father's behavior.
Because of its unique Hebrew inscription, the Healed by God pendant attracts both friends and strangers to ask the wearer what it means, and that provides an opportunity for them to share the story of their healing.
"It's natural to attribute healing to a doctor or a miracle drug," explains Healed by God pendant designer Barry Torman, "but the lesson from Hezekiah is that if you pray to God for healing, and ask others to pray for you as well, then God should receive the credit. The Healed by God pendant isn't just for practicing Jews and Christians; it's for everyone who is willing to acknowledge that they've been healed through the power of prayer."
Healed by God pendants come in several styles, including black filled engraving on polished stainless steel, and silver engraving on black plated stainless. A necklace is included with each pendant.
Sticky Jewelry is an on-line retailer of personalized, religious, and medical id jewelry based in St. Petersburg, Florida. For more information, contact Barry Torman at 727-823-9500 or visit Sticky Jewelry.
###