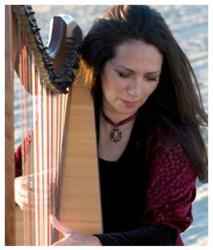 I wrote the letter to my birth mother in case she was hesitant to meet me,
San Francisco, CA (PRWEB) September 13, 2011
Bay Area and Los Angeles artist, Lisa Lynne has emerged as one of the premier harpists in the world. The Artist has released several internationally acclaimed recordings on the prestigious Windham Hill and New Earth Record labels while simultaneously running Lavender Sky Music label. Lisa uses her blog to connect with fans and listeners by showing videos of her festival and touring adventures around the country.
All through Lynne's life, music has been her passion. Lisa has had a colorful and adventurous life and has known throughout it that she was adopted. Throughout her life and career, Lisa has created wonderful healing music and has lived her life to its fullest. Much of this has been possible because a loving family, supportive friends and music she lives by. With all the blessings in her life, Lisa decided that it was the right time to look for her birth mother. The first step on this process was to create a blog as a way to connect with the people that matter most to her.
"My blog was supposed to be a letter to my birth mother and my adoptive family," said Lisa Lynne. "I just wanted to write how I feel about them. How they helped me to be the person I've become."
"I wrote the letter to my birth mother in case she was hesitant to meet me," Lisa added. "I wanted to let her know that I admired her difficult decision and ended up in a wonderful family. I had no idea if she was alive or would even ever read it, but I wrote it just in case. I hired a private detective and it was a matter of weeks before I found them. My birth mother had had a major stroke, and was without speech.
"So her family members printed my blog and read it to her, so she got the whole story before we even met. Recently when we met, there were no words, only smiles," Lisa continued. "I brought my harp and again, the universal power of music was the connecting bridge. I documented the meeting and the story as it unfolded on my blog. I had no idea that so many folks would be touched by the story and want to share similar stories of their own. I was overwhelmed."
Lisa has always been passionate about using her music to uplift the spirits of people going through tough times. She has channeled this passion into a music program called "Hands-on-Harps," which brings 17 harps to schools and cancer centers. She plays at the bedside of people who are dying, and as babies are being born. Through her performances in hospitals, Lisa met many people who would later be helpful in her efforts to find her birth mother. Finally, on June 14, after four decades, mother and daughter reconnected.
"It's just the most wonderful feeling! And I'm so very grateful to all those who helped and supported me throughout this journey in my life. My family, friends, and all those people who read my blog," Lisa added.
For more information on Lisa Lynne and her music, contact her at (888) 287-2162 or visit her blog http://lisalynnefranco.blogspot.com/ for more detailed information on her life story and to see a video of the joyous and heartwarming reunion between Lisa and her birth mother.
About Lisa Lynne
Lisa Lynne is a multi-instrumentalist and performer who has gained worldwide recognition for her original music featuring the Celtic Harp. She specializes in traditional acoustic folk instruments and is widely acclaimed for composing memorable and heartwarming melodies that transcend category and genre. She uses her gift of creating beautiful harp music to the masses of the Bay Area and Los Angeles, including providing healing music in hospitals, educational music in schools and wedding music to the joyous couple.
# # #