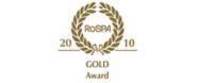 "This Gold award is a direct testimony to the regard in which good health and safety practice is held throughout the Lanes Group. It represents every individual from the frontline operatives to the board of directors, and is a fantastic achievement."
(PRWeb UK) June 8, 2010
It is not just Olympic athletes who go for gold — as drainage specialist, the Lanes Group, proved in this year's RoSPA Occupational Health and Safety awards.
When Lanes netted a silver award last year, Group Health & Safety manager John Glover vowed to aim even higher in 2010. His determination was rewarded when he collected Gold at this year's RoSPA (Royal Society for the Prevention of Accidents) awards in Birmingham.
A celebratory John says: "It was a rigorous assessment process, but definitely worth the effort.
"This Gold award is a direct testimony to the regard in which good health and safety practice is held throughout the Lanes Group. It represents every individual from the frontline operatives to the board of directors, and is a fantastic achievement."
Adds John: "We will not relax our standards though. We fully intend to improve our performance year on year to make sure that this is not the last RoSPA in our trophy cabinet!"
David Rawlins, RoSPA's awards manager, said: "Lanes Group has shown a commitment to protecting the health and well-being of its employees and others. Organisations which do this deserve to have such dedication recognised and that's where RoSPA awards come in."
The Lanes Group has over 800 staff, a £70 million turnover and includes Lanes for Drains within its Group companies. Lanes for Drains is the UK's largest independent drainage specialist, specialising in drain unblocking and drain repairs.
David Rawlins continues: "As well as there being clear ethical reasons and legal requirements for good health and safety management, there is also a strong business case. RoSPA is delighted to publicly honour organisations which have demonstrated their work to improve performance in this sphere."
This award extends a successful period for Lanes Group, following a recent double award for sewer rehabilitation projects at the UKSTT awards recently.
# # #