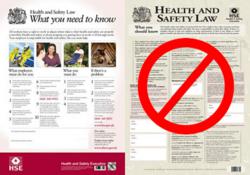 (PRWEB UK) 26 June 2013
Many unsuspecting businesses could be facing potential fines from April 5th 2014 for failing to display the correct health and safety poster. Back in 2009 the Health and Safety Executive gave a 5 year transition period to give companies time to replace the previous 1999 poster when they introduced a new style Health and Safety Law poster.
The previous 1999 poster was replaced because research done showed that the law poster and leaflet were unappealing visually, because of this they were rarely read by employees. The new poster is designed to be easier to read and more engaging. As before both the leaflet and the more commonly used poster will be available.
One of the benefits of the new 2009 poster is that it does not require the employer to provide further information in writing, both on the poster or by the leaflet. The new poster still has the optional boxes where details of any health and safety representatives can be put. Even though there is no legal requirement to provide this information, many employers have said that their workers often find that information useful.
When the office supplies company, Office Stationery, was questioned about the forthcoming change their company spokesperson, Owen Cass, said "Many of our regular customers were unaware that they had to update their posters, I have told all of my regulars about the change and they have all been very grateful of the heads up" he went on to say "we also found that a number of them had brought fake posters from eBay and were unaware of this".
Any employer can check if a poster is a genuine 2009 poster, the HSE own website states that "Each copy of the 2009 poster incorporates a unique, serially numbered hologram in the bottom right corner. The security hologram is to help prevent mis-selling". All of the posters that are sold by Office Stationery feature these markings.
For more information on the forthcoming change visit the HSE's website.