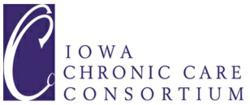 Jody Hereford's presentation will be an excellent chance to learn more about how innovative health care institutions are using health coach training to improve engagement at the point of care.

Dr. William Appelgate, Executive Director of the ICCC
Des Moines, Iowa (PRWEB) March 11, 2013
Iowa Chronic Care Consortium (ICCC), a nonprofit, clinically-focused population health organization dedicated to health promotion and chronic care management strategies, will conduct a session titled "The Nurse Coach" as a part of the Mini Summit on "Key Nursing Roles in the Medical Home" at the 5th National Medical Home Summit in Philadelphia on Thursday, March 14th. In that session, Jody Hereford, BSN, MS, Clinical Programs Consultant, will share experiences and insights into the highly relevant and emerging role of the Clinical Health Coach within systems of care. This session will provide valuable insight into the findings various ICCC clients have had with health coach and nurse training initiatives. The applicability of health coach curriculums in Patient Centered Medical Home and Accountable Care Organization settings has already proven to be highly impactful, with very short return-on-investment timeframes.
"We are very excited to be returning to the National Medical Home Summit this year. This conference is arguably the premier venue to learn about best practices and innovative initiatives in this exciting and disruptive future of health care," said Dr. William Appelgate, Executive Director of the ICCC. "Those of us at the ICCC are adamant that it is new delivery models like PCMHs and ACOs that will be most effective at driving health behavior change, and with that better outcomes and lower costs. And Jody's presentation will be an excellent chance to learn more about how innovative health care institutions are using health coach training to improve engagement at the point of care."
The Iowa Chronic Care Consortium (ICCC), founded in 2002, is a not-for-profit, population health consulting, training and planning organization. Its mission is to build capacity with other organizations to deliver effective, personalized health improvement and chronic care strategies that reduce the burden of chronic conditions. To learn more about ICCC and our Clinical Health Coach® training programs, please visit us at http://www.clinicalhealthcoach.com.