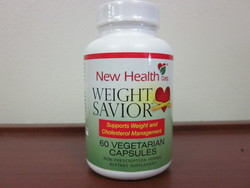 Satellite Beach, FL (PRWEB) September 2, 2010
WeightSavior is all natural. "These ingredients were selected for their proven ability to address all the essential body mechanisms for healthy weight loss and healthy cholesterol levels. People interested in health diet nutrition need to know about WeightSavior. WeightSavior ingredients block the absorption of carbohydrates in the diet, reduce the absorption of fat and calories, suppress appetite and support healthy cholesterol levels," says Dr. Carlson, board certified cardio- thoracic surgeon.
New Health specializes in natural products for heart disease and high cholesterol. We took our in depth knowledge about heart disease and lowering cholesterol naturally and applied it to weight loss and dieting. WeightSavior is all about blocking the calories weight loss.
We selected the most clinically proven ingredients for WeightSavior and made it the ideal weight loss product for people over 40 who struggle with high cholesterol. WeightSavior includes Cissus Quadrangularis®, Irvingia Garbonensis®, Slendesta®, White Kidney Bean Extract' L-Carnitine and Green tea.
New Health Corp. is the creator of HeartSavior™, LipidShield® Plus, Omega1000EC and Amazing Sleep Plus.
WeightSavior comes in easy to swallow vegetarian capsules and when taken as directed, supports healthy weight loss, appetite control and cholesterol in a caloric managed diet.
WeightSavior is manufactured in FDA-inspected and registered CGMP (Current Good Manufacturing Practices) facilities.
More information about WeightSavior is available from New Health Corp. at 877-263-3555
or at http://www.newhealthco.com/weightsavior.
###