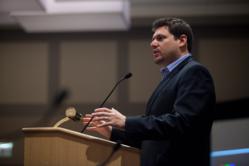 Private exchanges are a valuable resource in this environment, empowering both employers and employees.
Birmingham, Alabama (PRWEB) April 18, 2013
Health Partners America (http://www.healthpartnersamerica.com), an innovative source for private exchanges and solutions involving America's health care crisis, announces their successful webinar, co-hosted by PrimePay (http://www.primepay.com), a leading nationwide provider of Employee Management Solutions including a full suite of payroll and HR support services. The webinar included a comprehensive overview about the importance – and savings – of private health exchanges and defined contribution plans, in the face of the Patient Protection and Affordable Care Act.
"This webinar addressed a variety of issues that will impact businesses throughout the United States, influencing hiring policies, expansion goals and various benefits programs. In this newly defined political and economic landscape, it is essential for insurance agents to have the knowledge necessary to resolve these matters. Private health exchanges are a valuable resource in this environment, empowering both employers and employees. The webinar provided an excellent opportunity to discuss this topic and related plans," says Steve Jackson, SVP of PrimePay should be a Steve Jackson quote.
"Health Partners America and PrimePay developed this webinar to provide an informative and factual perspective , explaining the benefits of private health exchanges and defined contribution plans. The presentation was quite compelling and further proof of the professionalism and expertise these organizations offer. Their insight and integrity are essential to navigating this otherwise complex issue. I learned a great deal from participating in this event," says Tom Shearer of Strickler Agency.
"I want to thank PrimePay for collaborating with Health Partners America on the creation and development of the content presented in this webinar. Health insurance reform is the primary focus of our efforts. We work to provide counsel to brokers and companies nationwide. This webinar was yet another chance to explain the advantages of private exchanges and our credibility in this arena. We look forward to joining similar conversations in the near future," says Josh Hilgers, President of Health Partners America.
About PrimePay
PrimePay is a nationally recognized company with more than 500 employees in 30 offices located across the United States. Operating for 27 years, it processes payroll for tens of thousands of businesses. . PrimePay's proprietary systems and technologies enable the company to handle payroll and related business services in all 50 States. The company continues to invest in developing innovative solutions that make complex administrative tasks easy. These solutions are delivered through a unique and unparalleled client service model resulting in an industry-best retention rate.
About Health Partners America
Founded in 2007, Health Partners America provides insurance brokers with the tools, training and technology to help businesses deliver quality health coverage using affordable solutions. The company offers the industry's first broker-friendly private health insurance exchange, defined contribution plan training, insurance training and workshops. Company representatives share their thought leadership at various business industry events.
###
If you'd like more information about this topic, or schedule an interview with Josh Hilgers, please call Lewis Fein at 310-746-7771 or visit http://www.healthpartnersamerica.com.