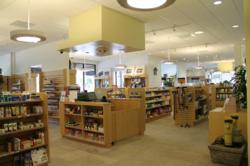 Torrance, CA (PRWEB) July 12, 2012
The Remedy Pharm is happy to present their annual Health & Wellness Fair, which will take place on July 14th, 2012, from 10:30a.m. to 2:30p.m. Those in attendance will receive goodie bags and ice cream treats and will be eligible for raffle prizes. The event will feature informative presentations and free product demonstrations from lines and companies such as Dreamous, DS Labs, Keys, Osmosis Skincare, Juzo, Osmosis Color, Poten Shaa, Grey Riddance, Thorne, Herb Pharm, Nordic Naturals, Golden Earth, and Natu-real Tea.
In addition to these educational presentations and demos of featured products, the fair will provide a wide variety of complimentary services. These services include mini-facials, make-up applications, body fat calculations, chair massages, and intuitive readings. Health screenings will also be available throughout the day from The Remedy Pharm's partners in the healthcare industry.
The Remedy Pharm has chosen 981 Media to extend the reach of the Health & Wellness Fair by filming the event. 981 Media will conduct in-depth interviews with representatives of the product lines that will be on display, in addition to filming product demonstrations as they take place. Footage collected during the event will be made available online. This will give those who are unable to attend the fair a chance to take part in it. It will also increase the amount of people who can access the information provided and enable them to share it with others who will find it useful.
About The Remedy Pharm:
The Remedy Pharm is a green, homeopathic company that specializes in organic, natural products. They possess one of the largest product selections, and carry everything from baby care products and nutritional supplements to surgical stockings and homeopathic medicines. Their store is managed and staffed by highly qualified individuals who are knowledgeable in homeopathic products, medicine, and healthcare. They host several events each month, including Massage Tuesdays, mini-facials on Mondays, and Intuitive Readings on Wednesday. To learn more, give them a call at 310-375-0655 or visit their website at http://theremedypharm.com/.
About 981 Media:
981 Media serves companies who want the very best marketing tools around and specializes in using multiple forms of media to promote businesses. They offer responsive website design, corporate video production, corporate photography, mobile apps, and much more. They chose their name for its ability to represent what they give to their clients. The numbers 9, 8, and 1 mean completion, fulfillment, abundance, power, creativity, and confidence. 9 is also the square root of 81, and together they symbolize synergy and maximized outcomes. To learn more, give them a call at 877-981-6334 or get in touch at http://www.981media.com.