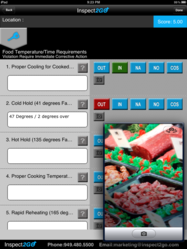 Save Time and Money with Health Inspection Mobile Applications
Orange County, California (PRWEB) July 12, 2012
Inspect2GO (http://www.inspect2go.com/ehs/) now offers custom mobile applications to city/county health departments nationwide. DOH/EHS inspectors work directly with Inspect2GO to tailor the software to each region's unique needs. The mobile applications reduce costs and improve efficiency by replacing browser/desktop software and paper forms with user friendly mobile applications. The latest software enables iPad, Windows (PC) and Android tablet computers to transfer data to Inspect2GO's cloud servers for graphing, trending and custom reporting.
DOH/EHS RESTAURANT HEALTH INSPECTION APPLICATIONS
Custom and standard applications include

Tablet Apps - Mobile inspection applications for iPad, Android and Windows tablets
DOH – Custom mobile applications for city/county/state Public Department of Health
EHS – Environmental Health and Safety code inspection software and app development
Checklists – Restaurant, retail food, food safety inspection checklists applications
Audit – Self audit apps for iPad, Android Windows tablets and smartphones
Food Safety – Food safety inspection software (http://www.inspect2go.com/food/), food safety checklist apps and audit forms for tablets
Health Code - Violation/inspection/corrective action logging
Mobile Software - Handheld, wireless (wifi and cell network) tablet applications
TABLET HEALTH INSPECTION APP CAPABILITIES
Custom and standard applications include

Restaurant/retail food establishment city/county database resident on iPad, Android or Windows tablet for auto-lookup
Reporting – Custom report format with City/County logo, violations, photos and notes
Report/log/document public health code violations
Data management and inspection report storage
Restaurant audit forms for tablet PCs
Inspector time management and scheduling
Field reporting devices
GPS/Geotagging and time stamp
Cloud - Data handling and storage of reports, SQL server (MSSQL and MYSQL)
Graphing – Analyze data, run graphs/trends/plots
Alert – Flag problem establishments for frequent inspection
Scores – Custom scoring/rating systems and post inspection results to public websites
Printing – Print onsite via wireless printer
Signatures – Sign on screen
Your Documents – Convert your Excel, Microsoft (Windows) Word and PDF documents to iOS/Android applications
ESTABLISHMENTS

Public food services
Contract food service providers
Restaurants
Retail food stores
Food manufacturer
Wholesale food suppliers
Warehouse
School and school kitchen inspection (http://www.inspect2go.com/school/)
Other EHS Inspections – Mobile food cart, nursing home, kitchen, cafeteria, housing, hazmat, hotel, water, child/daycare, consumer health, swimming pool, vector/pest, sanitation, property and vehicle inspection - custom mobile application development on iPad, Android and Windows tablets
ABOUT INSPECT2GO
Inspect2GO is a mobile application, cloud database and software development company based in Southern California. The firm's mobile technology includes inspection checklists and apps with signature, photo, markup, custom reporting, pdf, rating, statistics, charting, graphing and database functions. The software is compatible with Apple iOS (iPhone, iPad), Windows Mobile and Android tablets/phones. Inspection results are sent to Inspect2GO's cloud database for storage. Reports, graphs, trends and data feeds can be retrieved from the cloud server via a browser-based web portal.