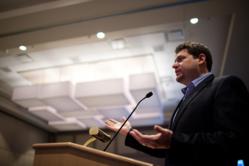 Josh's speech was an excellent primer about private exchanges and the changing landscape of the health insurance industry.
Birmingham, AL (PRWEB) May 21, 2013
Health Partners America (http://www.healthpartnersamerica.com), an innovative source for private exchanges and consulting solutions involving America's health care crisis, announces its successful and well-received presentation about private health exchanges at the 9th Annual Benefits Selling Expo in San Diego. Josh Hilgers, President of Health Partners America, was a featured speaker at the three-day event. Keynote luminaries at the show also included Ezra Klein, columnist for the Washington Post and political analyst for MSNBC, and Rick Santorum, for United States Senator for Pennsylvania and 2012 Republican presidential candidate, as well as several top business executives.
According to Mr. Hilgers: "The Expo was the ideal venue to discuss the advantages and increased national popularity of private exchanges. For employers and employees alike, this opportunity represents genuine savings and a model for other companies and organizations to emulate. This type of innovation is essential to achieving – and sustaining – true health insurance reform. The advantages of private exchanges are significant, verifiable and attractive to a variety of businesses. I welcome the chance to speak about these issues at other events with executives, brokers and advisors with a stake in this topic."
"Josh's speech was an excellent primer about private exchanges and the changing landscape of the health insurance industry. His remarks provided attendees with excellent examples – practical scenarios – of the benefits associated with private exchanges. Josh consistently makes this material interesting and intelligible for businesses, fellow brokers and organizations throughout the United States. The reception to his presentation was a powerful reminder of the public's interest in this vital issue," says Eric Johnson, Director of Education for Health Partners America.
Watch the BenefitsPro video interview of Josh Hilgers and Eric Johnson here:
About Health Partners America
Founded in 2007, Health Partners America provides insurance brokers with the tools, training and technology to help businesses deliver quality health coverage using affordable solutions. The company offers the industry's first broker-friendly private health insurance exchange, defined contribution plan training, insurance training and workshops. Company representatives share their thought leadership at various business industry events.
If you'd like more information about this topic, or schedule an interview with Josh Hilgers, please call Lewis Fein at 310-746-7771 or visit http://www.healthpartnersamerica.com.