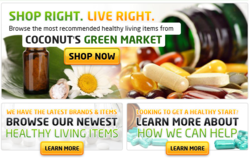 (PRWEB) June 13, 2013
Coconut's Green Market, a new online marketplace for healthy living products, has just launched its new retail site, offering shoppers an extensive range of natural, organic, eco-friendly personal care and lifestyle products at great prices.
The founder, Stacy Scibetta, has been a Holistic Health practitioner for years – helping people overcome health challenges, and has helped her clients through integrating nutritional and lifestyle modifications to encourage them towards vibrant, healthy changes.
"There are many things I recommend to my clients to integrate aspects of well-being into a healthy lifestyle," says Scibetta. "And there are also so many healthy living products out there that can assist hand-in-hand with this process of not only getting healthy, but also maintaining a healthy lifestyle."
As the need for "going green" increases, Coconut's new website is able to provide a "virtual" warehouse (or marketplace) of natural, eco-friendly and sustainable products. Our tremendous product line includes high-quality products for household, kitchen and gardening, baby and children, bath and beauty, personal care, vitamins/supplements, sports nutrition and even pet care.
"We want people to know that they are shopping from a health and wellness marketplace that specializes specifically in these products, while having that sense of convenience and assurance that they're getting the best value for the dollar," says Scibetta.
The site's layout makes it easy to shop, with different categories to filter by, a shop-by-brand feature (for favorite go-to products), and even a new Coconut's Green Market Blog to keep up with the latest news and trends in the world of healthy living.
To find out more about Coconut's Green Market or how Stacy can help you, please visit coconutsgreenmarket.com. "Like" them on Facebook, or follow them on Twitter (@CoconutsGreen).
About Coconut's Green Market:
Coconut's Green Market's mission is to help people optimize their health by providing all natural, organic, eco-friendly, personal care and lifestyle products. Carrying over 13,500 name brand products including vitamins, supplement and sports nutrition; many of them offering authentic alternatives to mass-produced synthetic products on the market. Founded by Stacy A. Scibetta, CHC, CPCC, RYT, Coconut's Green Market provides the product support system that keeps you on the path to success and lasting wellness.
Contact:
Stacy Scibetta
Holistic Health Coach
Cancer Coach/Educator
(718) 222-5050
stacy(at)kaizenholistichealth(dot)com