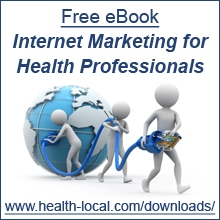 The marketing game has changed. The thing is, many health professionals just don't know it yet."
Burlington, ON (PRWEB) March 14, 2011
It's no secret that health professionals need to use the internet to market their services. But for many, the internet is nothing more than a confusing maze of websites, links and programming jargon. This confusion leads many to hire expensive consultants to design a flashy website for their clinic – only to have the site languish in cyberspace because no one can find it. Often, the result is an unmanageable, build-it-once-never-touch-it-again, website.
As a result, many health professionals have abandoned the internet and returned to traditional (and much more expensive) forms of marketing – or simply abandoned marketing altogether. Now, a new, free e-book from the experts at Health Local is going to change all that.
Internet Marketing for Health Professionals, a brand-new, free e-book written by Health Local president Dr. Gary Leung, offers health professionals real, honest advice on how to make sense of the tangle that is the World Wide Web. This practical book has a number of zero-cost solutions to help businesses ensure the right patients find them – and not their competitors.
"The marketing game has changed," says Dr. Leung. "The thing is, many health professionals just don't know it yet."
Today, savvy health professionals can reach their potential clients for a fraction of the cost of traditional media. What's more, they can conveniently place information about their practice just a mouse click away from their targeted local customers. They don't need expensive brochures, flyers, ads or business cards – all they need is a computer, an internet connection and a little know-how.
Some of the secrets of Internet Marketing for Health Professionals include:

How to expand your internet footprint;
How to use free, social media;
How to tell search engines about your business so local customers can find you;
How to share your expertise online to attract new customers; and
How to leverage online health directories.
"The good news is these are all quick and actionable solutions," says Dr. Leung. "It's not about having a website. It's about having information online that represents your brand and provides details about you and your services. If the only thing people can find on the internet is your name, address and phone number, they're going to move on to someone else."
Internet Marketing for Health Professionals is now available for free download at http://www.health-local.com/downloads/PR1. Contact Health Local today to learn more.
About Health Local:
Health Local is Canada's largest online health directory dedicated to helping Canadians find Doctors, Physicians, Chiropractors, Dentists, Massage Therapists, Pharmacists, Physiotherapy, Walk In Clinics & more. Health Local's "Your Healthy Life" online magazine offers Canadians a reliable resource to help them achieve optimal health.
###