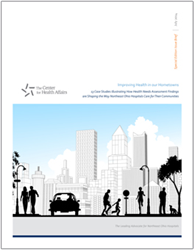 Cleveland, OH (PRWEB) August 06, 2014
To most effectively address the health needs of the communities they serve, hospitals routinely conduct community health needs assessments (CHNAs) to give them a clearer picture of the health concerns in their service areas. Though Northeast Ohio hospitals have conducted these assessments for many years, the Affordable Care Act (ACA) included provisions that mandated CHNAs and a corresponding implementation plan at least once every three years for all 501(c)(3) hospitals. Since the region's hospitals already had ample experience with CHNA's, the provisions in the law simply standardized and formalized the health needs assessment work they had already been doing.
The Center's July 2014 Issue Brief — Improving Health in our Hometowns — includes 13 case studies that illustrate how health needs assessment findings are shaping the way Northeast Ohio hospitals care for their communities. The Center is hopeful that the results of this regional report will help spark a dialogue about ways community stakeholders can collaborate to address health needs in the region.
To learn more about this Issue Brief and how health needs assessment findings are helping guide hospitals' community improvement initiatives, please contact Kirstin Craciun at 216.255.3616 or via email.
To browse related information and resources cited in this publication, visit The Center's Health Needs Assessments Pinterest board.
A full list of The Center's publications can be found on the website along with a wide range of resources covering a variety of health policy issues.
###
As the leading advocate for Northeast Ohio hospitals, The Center for Health Affairs provides members with vital services and resources aimed at enhancing the region's healthcare community. The Center delivers on this goal by focusing its efforts on areas that benefit from a regional approach: Healthcare Workforce; Emergency Preparedness; Public Policy & Advocacy; Finance & Reimbursement; and Community Initiatives. With a rich history as the Northeast Ohio hospital association, dating back to 1916, The Center serves as the collective voice of hospitals and the source for Northeast Ohio hospital and healthcare information. As leaders, we continuously scan the periphery, looking for opportunities to enhance the region's workforce, better prepare our hospitals for an emergency, and increase the region's wage index. And because of our business affiliation with CHAMPS Healthcare, we have the resources to provide a broad level of professional services to our members. The Center, located in downtown Cleveland, is proud to advocate on behalf of 38 acute-care hospitals and two long-term acute-care hospitals in six counties. For more, visit chanet.org.