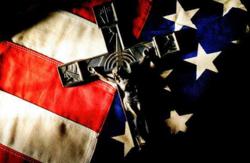 This plan addresses many of the concerns held by Catholics about current healthcare legislation, and the HHS mandate in particular
PHOENIX, AZ (PRWEB) July 16, 2012
Immaculata Management Group announces Solidarity HealthShare, a national Catholic healthshare plan to be offered as an ethical alternative to medical coverage under the HHS mandate. The plan provides an affordable means of opting out of government mandated insurance plans forcing members to pay for services they find ethically and morally objectionable.
"This plan addresses many of the concerns held by Catholics about current healthcare legislation, and the HHS mandate in particular," said Dr. John C. Oertle, president. "It allows Catholics of conscience a means to ensure that their healthcare costs are not contributing to abortion and other services that violate their deeply held beliefs."
Key features of the healthshare plan include:

Provides a way for people to receive medical coverage while not participating in the HHS mandate providing abortion, sterilization, and contraceptive services.
Is a cost-effective plan utilizing monthly contributions wherein members provide for the healthcare needs of other members.
Cost control is achieved by directing a greater percentage of monthly fees toward medical costs vs. traditional healthcare plans, and by capping payouts to fees collected by all members.
Key benefits include:

No denial for pre-existing conditions
Maternity coverage
Personal choice of medical provider
Alignment with the Catholic bishops' position on abortion and contraceptive services
Solidarity HealthShare encourages individuals and businesses interested in receiving information on the plan to sign up at http://www.SolidarityHealthShare.com. Solidarity has engaged Power Marketing International, an online marketing firm, to promote the plan to businesses and individuals.
About Immaculata Management Group, Inc.
Immaculata Management Group is the managing corporation overseeing operations of the Solidarity HealthShare plan.
About Solidarity HealthShare
Solidarity HealthShare is a medical cost-sharing collective that acts as a neutral, non-profit escrow agent that administers voluntary sharing of healthcare needs for qualifying members. Solidarity HealthShare is not a health insurance company, but a body of members who seek to support one another's medical burdens through a proven healthcare-sharing model. Find them at http://www.SolidarityHealthShare.com.
About Power Marketing International, LLC
Power Marketing International is an Internet marketing & web design firm located near Reading, PA, specializing in keyword-driven web design, web marketing, and social media marketing services and strategies for small and mid-sized companies. Find them at http://www.PowerMarketingInternational.com.