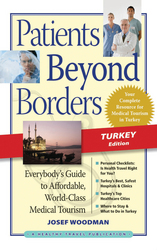 Turkey now has 36 JCI-accredited hospitals, more than any other country in the world
Chapel Hill, NC (Vocus) February 18, 2010
Healthy Travel Media, publishers of the Patients Beyond Borders™ series on medical tourism, is pleased to announce its participation in the Turkish American Chamber of Commerce (TACCI-Midwest) 2nd Annual Chicago Medical Tourism Conference to be held March 12 - 13, 2010, in Chicago. This year's conference, entitled Globalization and Model Partnership in Healthcare: United States and Turkey, is sponsored by Turkish Airlines, the Turkish Accredited Hospitals Association, and GE Healthcare. The event will feature special presentations, exhibits and performances throughout the two-day event.
The venue will also serve as the official North American launch of the Patients Beyond Borders: Turkey Edition. "Turkey now has 36 JCI-accredited hospitals, more than any other country in the world," says Josef Woodman, author of Patients Beyond Borders. "Turkey's superior healthcare infrastructure, relatively short flying times, and breathtaking beauty are attracting an estimated 200,000 medical tourists each year from the US, Canada, Europe, and the Middle East."
Woodman will also be a featured panelist at the conference and will join notable guests from Joint Commission International, Deloitte Consulting, and others to address Globalization of Healthcare and Medical Tourism Practices in Turkey.
"We are gratified to see so many important speakers, sponsors and other participants helping Americans better understand their healthcare choices in Turkey," says Dr. Sevil Kutay, President of TACCI-Midwest. "We have received an even greater response to this year's conference and are encouraging everyone to register early to assure their participation, as seating is limited."
Turkish Airlines will again be a major sponsor for this event and continues to support medical tourism by offering deep discounts to the region. "Turkish Airlines will be offering a 25 percent discount for any patient, and up to two companions, who travel to Turkey for medical treatment," says Dr. Temel Kotil, CEO of Turkish Airlines. "We believe Turkey offers high quality healthcare in world-class facilities at a fraction of the cost over the US and other popular destinations. We feel helping to reduce travel costs will bring even greater savings and incentive for the international patient traveling to Turkey."
About Turkish American Chamber of Commerce & Industry (TACCI) - Midwest
TACCI-Midwest was founded in 2006 to provide its members with a wide range of services targeted at promoting bilateral trade, investments, commercial relations, and joint ventures between the United States and Turkey. To find out more about this year's Medical Tourism Conference or to register, please visit: http://medicaltourisminturkey.org/
TACCI – Midwest
333 North Michigan Avenue, Suite 932
Chicago, IL 60601
Tel: +1 312 276.5171
Fax: +1 312 276.5181
Email: info(at)tacci-midwest(dot)org
Web: http://tacci-midwest.org
About Healthy Travel Media
Healthy Travel Media, an independent imprint based in Chapel Hill, NC, publishes books, ebooks, and online information on medical, health, and wellness travel. Its flagship international title, Patients Beyond Borders, now in its Second Edition, is the leading consumer reference guide for medical tourism and is filled with authoritative, accessible advice. Specialized editions have been published for Singapore, Korea, Taiwan, Malaysia, Thailand, and Turkey. The Patients Beyond Borders series is available through booksellers everywhere and is distributed to the retail trade by Publishers Group West.
For more information or media queries, please contact:
Judy Orchard
Tel: +1 919 545.0668
Email: jorchard(at)patientsbeyondborders(dot)com
Web: http://www.patientsbeyondborders.com
Qualified members of the media are invited to request a review copy; please contact jorchard(at)patientsbeyondborders(dot)com.
# # #