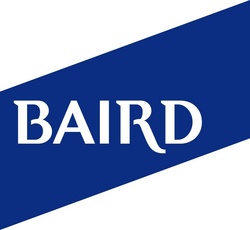 100 Best Companies to Work For
NEW YORK (PRWEB) September 9, 2008
"While Baird has hosted small cap conferences in the past, this is our first focused exclusively on health care companies. Baird is a leading source of investment information on small cap companies in this industry," said Director of Research Robert Venable. "This year's conference is timely as investors seek to understand how the election will impact health care."
Q&A with Senior Health Care Research Analyst Eric Coldwell, CFA
As a preview to the conference, Baird spoke with senior research analyst Eric Coldwell about some of the factors affecting the health care industry. Coldwell covers large and small companies in the industry and discussed issues affecting companies of all sizes.
The overall environment has been challenging for health care. What is causing this?
We are operating in one of the most challenging environments with implications that ripple throughout the industry. The government is scrutinizing safety and costs. Outsourcing is becoming more important as pharmaceutical and biotech companies struggle to accelerate increasingly complex R&D programs while minimizing the build out of fixed infrastructure. When challenged, the industry must seek alternative mechanisms for profitability.
Pharmaceutical companies have been in a bear market for close to seven years. How does that impact the industry?
While pharmaceutical companies may have been in a bear market for seven years, Contract Research Organizations (CROs) have been in a bull market for that whole time. CROs find their fortunes are inversely correlated to other companies in their industry. As pharmaceutical companies struggle with the lack of new drug approvals and increased generic competition, they are more willing to reduce internal infrastructure and increase their usage of outsourced providers. This benefits small cap CROs like Kendle (KNDL) and PAREXEL (PRXL), and mid caps like Charles River Labs (CRL), Covance (CVD), ICON (ICLR) and Pharmaceutical Product Development (PPDI).
On the other hand, drug distributors are caught between suppliers and customers that are trying to squeeze as much profit from the supply chain as possible. Yet as more consumers turn to generics, the more distributors benefit. And as drug companies respond to prescription trends by raising prices, this too can improve profits. So the impact for the distributors is mixed.
The government seems increasingly focused on regulating health care. What does this mean for the companies you follow?
The government is very focused on both reducing health care prices and increasing quality. One company that is benefitting from this trend is MedAssets (MDAS). MedAssets works with hospitals to help them manage their spending around non-labor supply costs, helping hospitals aggressively target their input costs. Then, MedAssets helps these same hospitals increase revenue by giving them software for billing and coding, accelerating collection of bad claims, co-pays and deductibles.
What will the impact of the election be on health care?
Baird will host a panel of our senior health care analysts to specifically address this question, and we all have different views on the election and the potential outcomes. For me, I do not think health care is the number one concern for either the public or politicians. Health care is important, but polls indicate it is number three or four on most voters' minds. The result is that health care is unlikely to be the first issue addressed after the election and change may be a little further down the road.
When change does come though, I see the specific health care agendas for Obama and McCain being more similar than different. The themes if not the tactics are the same. Regardless which party wins, the product manufacturers (biotech and pharmaceuticals) seem to be more at risk. Both parties want to enhance use of generics, would consider allowing drug importation, and both have supported direct government price negotiation with manufacturers, which would hurt these branded companies. On the services side, both party platforms look to increase insurance coverage which should lead to higher usage of health care helping the providers. Both parties also want increased R&D and enhanced technology which will help the CROs and health IT vendors.
Both candidates are focused on tort reform which could improve the health of doctors' practices allowing them to innovate and buy new products and equipment. McCain is also focused on improving access to home care and elder care. PSS World Medical (PSSI), which distributes items used in a doctors' office and nursing homes, is one potential beneficiary. Both candidates are also focused on quality initiatives which could help PSS's business process improvement solutions.
Will changing demographics help this industry?
My view is unconventional here. I think an aging society will be challenging for the industry and is one of the risks. The older the population gets, the more people demand access to high quality care. The more care seniors receive, the longer they live and the longer they live, the more care they need. At the same time, this audience isn't working so they aren't paying for that care. As this voting block lives longer, they will continue to want access to this increasingly expensive care which the government will fund via Medicare. In the long run this may lead to universal health care and, in the very long run, a single payer system
In the nearer term, demographics will lead to pressure to improve care, reduce errors, and report more data. This should help health care business services and IT firms that assist providers in meeting their growing business requirements.
About Eric Coldwell and Baird's Equity Research Team
Eric Coldwell is Baird's senior analyst covering Health Care Distribution & Services. Prior to joining Baird in 2003, he was a senior analyst in pharmaceutical and biotechnology services at Prudential Securities, a senior analyst in life sciences at Wachovia Securities and an investment analyst at Morehead Investment Advisors. In 2006 and 2007, he was recognized among the The Wall Street Journal's "Best on the Street" listing in the Health-Care Providers sector. In both 2007 and 2008, he was ranked by StarMine as a Top 3 Industry Estimator and Stock Picker in the Life Sciences Tools & Services Industry. Eric received a BA in Political Science from Wake Forest University, and an MBA with a concentration in Finance from Queens University.
In addition to Coldwell, Baird's senior health care research staff includes Chris Raymond and Thomas Russo, CFA, Biotechnology, Whit Mayo, Facilities & Services, Quintin Lai, PhD, CFA, Life Sciences and Diagnostics, Jeff Johnson, O.D., CFA, Medical Technology, and Lawrence Neibor, Specialty Pharmaceuticals. For a full list of the more than 500 companies covered by Baird, click here.
Baird is regularly recognized for the quality of its investment research. Integrity Research rated Baird No. 1 in small cap research, and a Bespoke Investment Group (B.I.G.) survey found that Baird analysts' stock recommendations had the most impact on stock prices. In addition, Baird has been repeatedly well-represented on The Wall Street Journal's "Best on the Street" analyst survey rankings over the years. Nine Baird analysts also received 13 awards from StarMine earlier this year, ranking the firm ninth overall. Such results were based on 2007 data. StarMine is the most recognized firm in the industry for tracking earnings accuracy and stock picking results.
About Baird
Baird is an employee-owned, international wealth management, capital markets, private equity and asset management firm with offices in the United States, Europe and Asia. Established in 1919, Baird has more than 2,300 associates serving the needs of individual, corporate, institutional and municipal clients. Baird oversees and manages client assets of more than $73 billion. Committed to being a great place to work, Baird is one of FORTUNE's "100 Best Companies to Work For" in 2008 -- its fifth consecutive year on the list. Baird's principal operating subsidiaries are Robert W. Baird & Co. in the United States and Robert W. Baird Group Ltd. in Europe. Baird also has operating subsidiaries in Asia supporting Baird's private equity and investment banking operations. For more information, please visit Baird's Web site at http://www.rwbaird.com.