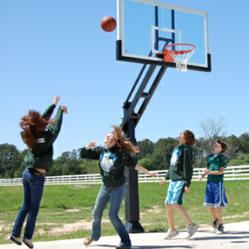 Basketball is definitely one of my sons favorite sports. It gets them outside and active during their summer instead of sitting on the couch watching TV, playing video games or browsing the Internet for 3 months.
Houston, TX (PRWEB) June 07, 2011
Strong sales posted by Pro Dunk Hoops suggests more children than ever will be heading outside this summer as the school year comes to a close. Participation in basketball has risen more than nine percent since 2009 making it the top team sport in the United States according to researchers at The Sporting Goods Manufacturers Association (SGMA). This information was gathered by the SGMA from their member base which represents over 1,000 sporting goods manufacturers, retailers and marketers. This research comes on the heels of a 30 percent increase year-over-year in NBA viewership reported by Turner Sports.
This increase in interest can already be seen by Pro Dunk Hoops based in Northwest Houston. Pro Dunk Hoops, one of the leading basketball goal manufactures in the United States, has been specializing in premium outdoor basketball systems since 1984 and is reporting record growth this year.
Ryan Tate, a product specialist at Pro Dunk Hoops, says, "We have seen over 30% growth each year since 2009 from residential and institutional customers and we do not expect the trend to slow down."
Getting children outside and active this summer may not be the only benefit of the increased participation in basketball. Two studies presented at the American Psychological Association's (APA) annual convention showed that children participating in team sports reported higher self-esteem and were judged by their teachers as more socially skilled. Also, researchers from Baylor College of Medicine and Duke University have found that those parents who promote team sports had more active children who watched less TV and spent less time on their computers.
Sarah Austin, mother of three, says, "Basketball is definitely one of my sons' favorite sports. It gets them outside and active during their summer instead of sitting on the couch watching TV, playing video games or browsing the Internet for 3 months."
###