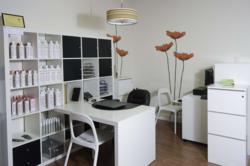 Burlingame, CA (PRWEB) February 27, 2013
The stigma about head lice leads many people to believe that the itching they are experiencing must be due to anything other than head lice. By the time they have purchased a whole new line of hair products, and commiserated with friends about the dry winter weather, they have a severe case of head lice. Head lice is prevalent in the winter months, especially in children, because hats and coats are tucked away together, where lice can be transferred. Tucked away on a second floor in fashionable Downtown Burlingame is Hair Spies, Inc., a discrete and comfortable place for treatment. They employ "Hair Agents" who secretly "hunt down and eradicate" head lice.
Head lice don't like dirty hair. They prefer clean hair, and they love fashionable hair. Head lice hit the hoity-toity as well as the hoi polloi. Having head lice doesn't have to be a nightmare. Hair Spies allows their clients to have it taken care of professionally so that they can move on with their lives as quickly as possible.
These days head lice removal can't be accomplished with one simple wash with a lice shampoo; hours of meticulous combing are required. Some families learn the hard way after struggling with what they initially think are repeated cases of head lice, but turn out to be one case that gets partially beat, and then gradually makes its way back again. Lots of busy families find it's just not possible to make the time to treat mom, dad, the nanny and the kids. Many moms who do have the time to treat their children at home often cannot, in-turn, get themselves treated. Hair Spies can treat the whole family, eliminating the stress for the client of making sure every last louse or nit is eradicated.
For information about Hair Spies, please visit: http://www.hairspies.com, or call (650)340-9000.
About the company:
Hair Spies is the only head lice removal salon in San Mateo. They offer the safest options in natural lice treatments for head lice using organic, non-toxic products. A visit to Hair Spies allows clients to relax in the comfort of a private lice removal salon with professional, trained staff. They strive to keep an open, friendly atmosphere by keeping children entertained with toys, books, DVDs and Gameboys while parents can check their e-mail during their child's treatment using the FREE WiFi service. Any questions about getting rid of lice – from their natural lice treatment process to their organic lice removal products – will be answered by the very knowledgeable staff.