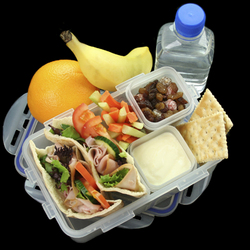 Hobart, IN (Vocus) March 10, 2010
In recognition of March National Nutrition Month, Botanic Choice has revealed its list of Top 10 Healthy Habits for Eating on the Run. With a little planning anyone can eat healthier wherever their day takes them.
1. Keep fresh fruits and pre-cut vegetables washed and ready to eat. If they're within reach, they'll be easy to snack on.
2. Stock up at the grocer's deli. Rotisserie chicken, vegetables, and fruit salads are instant healthy meals.
3. Even though it may look like a better value, skip the "super-sized" or "combo" meals that offer much more food and calories than needed.
4. Keep extra snack-sized canned fruit, crackers, or soup in the kitchen cupboard or desk at work.
5. Carry dried fruits, raisins, granola bars, or nuts in the car so there's always a healthy option.
6. When ordering from a sandwich shop, ask for less meat and cheese and more vegetables.
7. Lighten up on the mayo.
8. Skip the chips or fries. Most restaurants will substitute fruit or salad.
9. Take a pass on the all-you-can-eat buffets. The temptation is too great to make sure you get your money's worth.
10. Have your salad dressing on the side so you can control the amount.
In addition to eating right, Botanic Choice recommends four must-have vitamins for optimal nutrition.
1. Vitamin C – It's estimated that about 30 percent of Americans are not getting adequate Vitamin C from their diet. A powerful antioxidant, this important vitamin is a low cost solution to boosting your immune system and protecting your health.
2. Vitamin D – The "sunshine" vitamin helps build strong bones, regulate cell growth and enhance the absorption of calcium. Individuals who are obese, living in northern climates, or use sunscreen are at increased risk for a vitamin D deficiency.
See the full list of four must-have vitamins for eating on the run.
About Botanic Choice
Indiana Botanic Gardens, Inc. is a leading provider of more than 500 high-quality nutritional supplements, including its best-selling Apple Cider Vinegar Plus for weight loss support. Their line of vitamins, aromatherapy, homeopathy, and herbal remedies are sold through their catalogs, web site BotanicChoice.com, and retail store at 3401 West 37th Ave, (Ridge Road) Hobart, Indiana (800-644-8327). Customers can call anytime for a free catalog or stop by the store weekdays 9AM-5PM or Saturday 9AM-4PM.
###