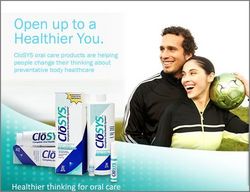 "Transforming lives requires transformative solutions. CloSYS is quickly becoming a recognized leader in bringing focus to overall health through better oral health."
Scottsdale, AZ (PRWEB) September 2, 2010
Inc. ranks Rowpar Pharmaceuticals, maker of CloSYS oral care products, #4,665 on its annual ranking of the 5,000 fastest-growing private companies in the United States. The list is the most comprehensive look at the most important segment of the economy – America's independent-minded entrepreneurs. Taken as a whole, these companies represent the backbone of the U.S. economy.
Headquartered in Scottsdale, AZ, Rowpar Pharmaceuticals celebrates its 18th anniversary this fall. It develops, manufactures, and markets unique patented oral health products (toothpaste, mouth rinse, and breath spray) sold nationally under the CloSYS brand through Walgreens, online retailers, and dental distributors.
Jim Ratcliff, Rowpar Pharmaceuticals CEO, is excited about the recognition by Inc. "When you look at the entire Inc 5000 list, you realize what visionary company you're in and the magnitude of the honor. Rowpar Pharmaceuticals has worked hard to transform peoples' lives through better oral health – helping them to get well and stay well. Being on the Inc 5000 list is a tribute to our team's perseverance in a very competitive market category and during a highly volatile economy."
Dental professionals recognize that gum disease occurs in over 75% of adults and is linked to other serious health conditions, including heart disease, stroke, diabetes, adverse pregnancy and more. Rowpar's CloSYS toothpaste, mouth rinse and breath sprays utilize a patented formula that kills 99.9% of germs associated with gum diseases while eliminating bad breath.
CloSYS unique properties include; toothpaste that does not contain foaming agents, sulfates (SLS) or triclosan, and has very low abrasion. The CloSYS oral rinse is alcohol-free, and all products are pH balanced.
According to Rowpar's Executive Vice President of Marketing, Andy Gritti, "Taking care of your health has to start at the place where 80% of the germs attack the body – your mouth. We take vitamins, exercise and eat right all in the name of health. But we shouldn't overlook the fact that the mouth is the gateway to the body. We're all about fighting the fight at the front line, your mouth. Untreated, the same germs that infect the mouth, causing bleeding and puffiness of gums, can find their way into your bloodstream.
Contact Information:
Andy Gritti
480.948.6997
http://www.closys.com
###