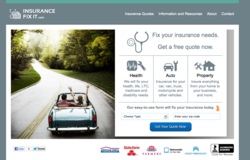 It is estimated that about 4 million people will forego the new healthcare mandate. Mostly young adults without children who believe they are healthy enough to avoid paying for healthcare
Baltimore, MD (PRWEB) January 09, 2013
InsuranceFixIt has released a new article which reveals many of the health care reform changes that corporations, small businesses, and individuals must be concerned with starting in 2013.
New U.S. health care changes are going into effect in 2013. The new rules and regulations can be complex for both individuals and for businesses. InsuranceFixIt has recently outlined the most important factors involved with the new U.S. healthcare reforms and made them available to the public.
According to the article, all Americans must have health insurance policies in place before January 2014 or pay a tax penalty if they choose not to. "The new changes are coming and they are big news, but if you're not ready to buy into the new plan, don't fear as the tax penalty could be less than the cost of being insured," said Michele Postler, Senior Editor for InsuranceFixit.com. "It is estimated that about 4 million people will forgo the new healthcare mandate. Mostly young adults without children who believe they are healthy enough to avoid paying for healthcare," said Postler.
New Reforms for Health Care Insurance include:

If you make an income of over $200,000 (or $250,000 for a family) per year you will be seeing an extra 0.9 percent of taxes taken from your paycheck.
Exchanges will be available starting October 2013. An exchange is a state based marketplace for health insurance. The exchange will either be built by your state or will partner with the federal government.
Employers who receive a tax deduction for retiree subsidies for Medicare Part D will be eliminated.
Employers who do not withhold enough Medicare payroll taxes for employees will be seeing penalties starting in 2013.
To find out more about InsuranceFixIt and the other major changes in Health Care reform, please visit: http://insurancefixit.com/health/
About InsuranceFixIt
InsuranceFixIt.com provides health insurance quotes. InsuranceFixIt.com features a variety of articles and resources for consumers concerned about health insurance policies. InsuranceFixIt.com is a member of PRprofile, a website dedicated to helping businesses build a publicity presence online. For more information about InsuranceFixIt, please visit: http://InsuranceFixIt.com/