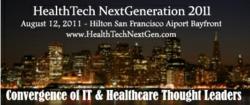 This one day comprehensive conference will assimilate leaders & professionals in Healthcare & Information Technology under one roof.
Burlingame, CA (PRWEB) July 06, 2011
HealthTech:NextGeneration will host it's first upcoming Conference & Exposition at the Hilton San Francisco Airport Bayfront Hotel, Burlingame, CA on August 12th 2011. This one day comprehensive event will assimilate leaders & professionals in Healthcare & Information Technology under one roof. It will showcase up-and-coming strategies and technologies to tackle today's healthcare delivery obstacles, shaping and advancing the healthcare industry forward into tomorrow's paradigm of patient controlled environments.
HealthTech:NextGeneration will feature expert speakers from both the Healthcare and IT industries, including renowned author Guy Kawasaki. The track sessions will address crucial topics such as Data Privacy and Security, Meaningful Use of Electronic Health Records, Role of Social Media, Cloud Computing In Healthcare, Health Information Exchange, Funding Opportunities for Healthcare Businesses and Global Healthcare Systems. The conference is designed for Healthcare & IT Executives, Consultants, Entrepreneurs and Professionals. Attendees will also include Policy Makers, Vendors, Insurers, Medical Administrators, Directors, Managers and VCs.
The attendees will enjoy networking opportunities, enabling them to establish new clientele, partnerships and collaborations. They will be able to preview the latest innovative products and services in Healthcare Technology and be able to educate themselves through our in-depth panel discussions.
HealthTech:NextGeneration is a fully owned subsidiary of Exponential, Inc. Exponential brings over 10 years of experience in successfully producing professional & high-quality expos and conferences targeted at today's savvy consumers as well as innovative businesses. Exponential's focus is on today's new emerging markets, including Energy, Smart Grid, Healthcare and Information Technology. Exponential brings together leading businesses, startups, vendors and entrepreneurs creating awareness, education and networking opportunities.
To register online as an attendee or exhibitor, please visit http://www.HealthTechNextGen.com
For more information contact:
Wasim Khan
HealthTech:NextGeneration
Tel: (510) 825-6132
E-mail: info(at)exponential-inc(dot)com
###